I think in my mind I thought that this "11 Days of Gratitude" series would be something I would write a short post about everyday through to the 11th of January.  I think I had a brief moment of insanity where I forgot that I kind of have a lot going on right now.  So, maybe I'll get through this series before 2012 is over.  We'll see.  Luckily, the blogging police aren't going to come out and arrest me.  In case you missed the first two posts from my 11 Days of Gratitude for 2011 series, you can find them here:
For those of you who don't know, Paul and Lila Vornbrock are friends of ours who kind of "adopted" us and our family back when we lived in LA.  They are friends from church and we know their kids through the college ministry that we used to help lead.  When Jude was born, he was adopted as their surrogate "first grandchild".  Lila was always there for me, helping out during that early newborn fog.  Kevin's mom had passed away, and the rest of our family didn't live nearby.  So Lila and Paul kind of stepped in and filled the gap.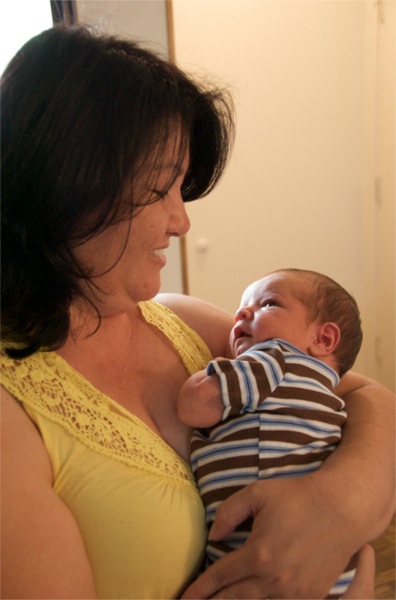 She and her daughter Kira were Jude's first babysitters, and kept him for our first overnight away, our 4th wedding anniversary.  When I went back to work part-time, she volunteered to watch him two afternoons a week while I drove a school bus for the nearby Christian school.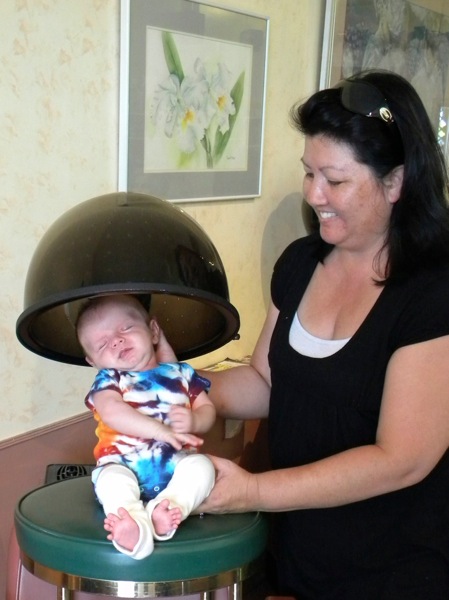 For Jude's first year, Lila, who quickly became Grammy Lila, was a constant, positive addition to Jude's life, and to ours.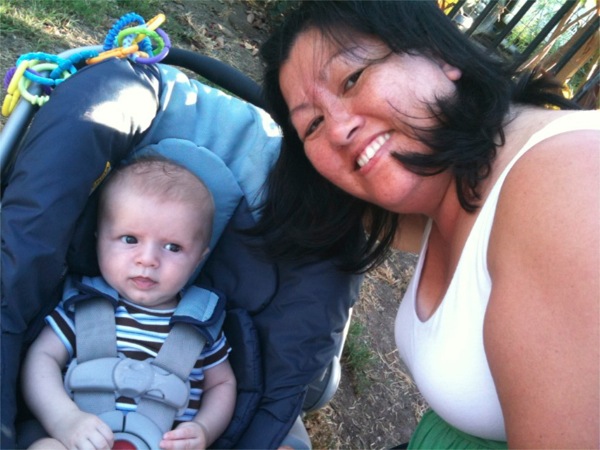 And Kira was Auntie Kira, jumping in to help out as well
Over time, he won over Paul, who would come home from work and peek into Jude's playpen where he was napping, wake him up, and say, "See!  Baby Jude wants to see me!"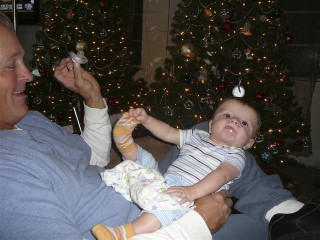 When it came time to make the move to Atlanta, I was excited about new beginnings, and especially a chance for Jude to begin building a relationship with Nana and Papa, my own parents, but it was bittersweet.  I wondered if he would remember the Vornbrocks.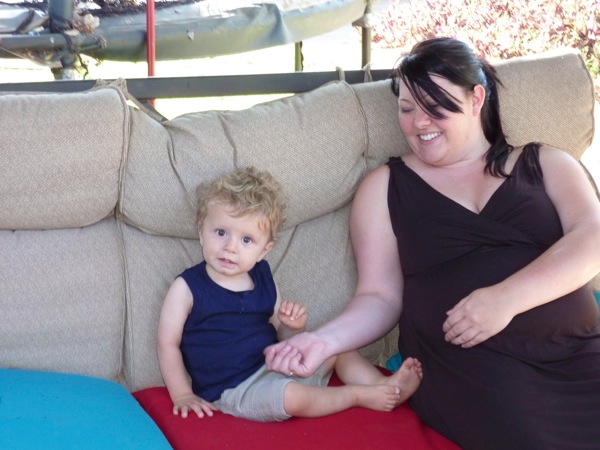 I figured that the next time we saw them would be several months, maybe even a year, and they would be strangers to him.  And it broke my heart.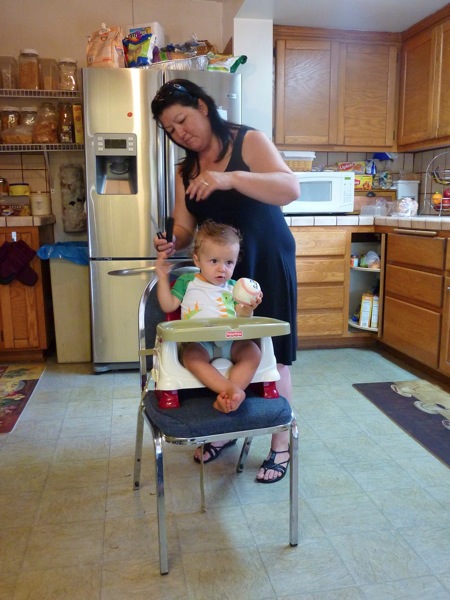 But still, we knew that the move to Atlanta was what we needed to do, so we continued with preparations, while trying to treasure the remaining weeks we had together.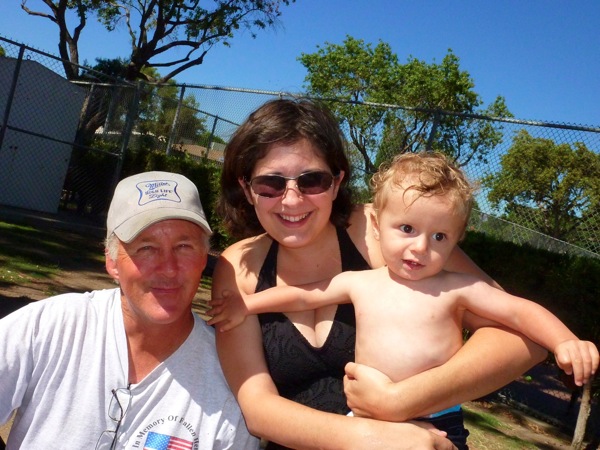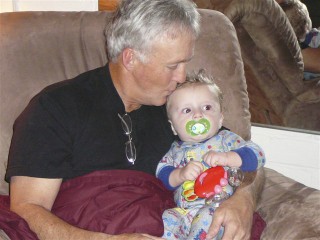 Amazingly though, Paul and Lila have stayed a huge part of Jude's and now Evie's life.  Thanks to the magic of videochat, digital photos, facebook, and of course, a few well placed plane trips, we have all been able to see each other on an almost daily basis.
Jude loves to Skype with Grammy Lila and Grandpa Paul and has been known to place a call on his own a time or two.
Evie makes a beeline to the computer when she hears Grammy's voice.
I am so grateful that they have remained a part of our lives.
But this post is what makes me grateful for them in 2011, not 2010, or even 2009.  Back in September of 2011, Paula and Lila booked tickets to come  out and help us with moving into our new house.  Little did we know that we would need them more than ever.  Paul ended up not being able to make it out due to some unexpected health problems, but Lila ended up extending her stay and helping us not only with our move, but staying through Kevin's first surgery, just five days after the move.  That woman pretty much single handedly packed up and moved our entire house, then unpacked it all and got everything set up and settled in before she headed back to her own home.  And she did all of this during one of the most intense and difficult periods of my life.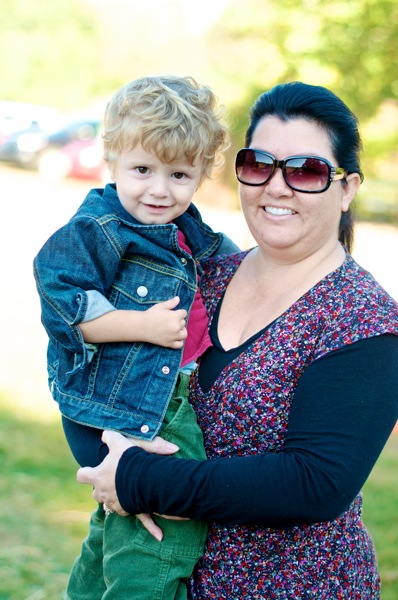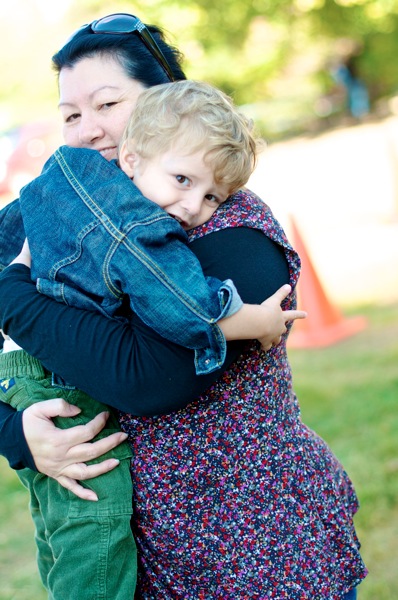 In the course of a month, we had closed on our first house, undergone major renovations, Kevin was diagnosed with cancer, we moved into our new house, and Kevin had his first surgery.  I think it's an understatement to say that life moves pretty fast around here!  And Lila was there to help us through all of it, all the while knowing her own husband was having health problems.  Once Paul's condition had been diagnosed and stabilized, he was adamant that Lila stay out here to help us out, saying that the Lord had a purpose for her being there.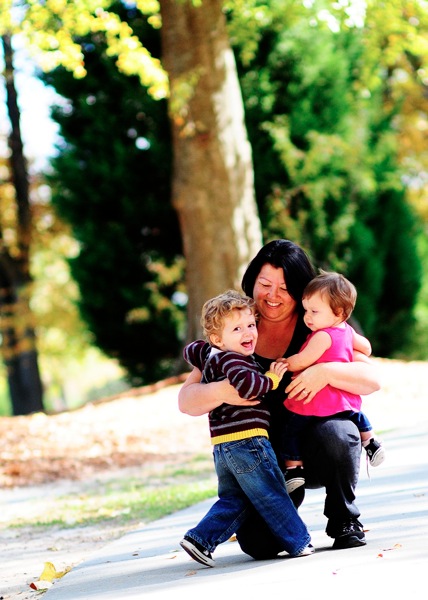 And truly I believe that He did!  They had made their plans to come weeks before we had received the cancer diagnosis.  There is no way that any of us could have known that the timing for Lila's visit would coincide so perfectly with a time of such great need.  There is also no way that any of us would have known that my mom's knee surgery (which left her and my dad unable to help out very much) would end up being just one day before Kevin's surgery.  Again, I don't know what I would have done if I'd been scrambling for babysitters at the same time as moving and getting his surgery set up.  God's timing was perfect and precise.  Lila was there in the EXACT weeks that we needed her most, and God knew it all and laid it out so perfectly.
I know this post is about the things I'm grateful for in 2011, but considering it's the end of February and I'm just now getting my third post out in this series (at this rate, it'll take me all of 2012!) I'm going to continue to share how grateful I am that Paul and Lila's blessings extended into 2012.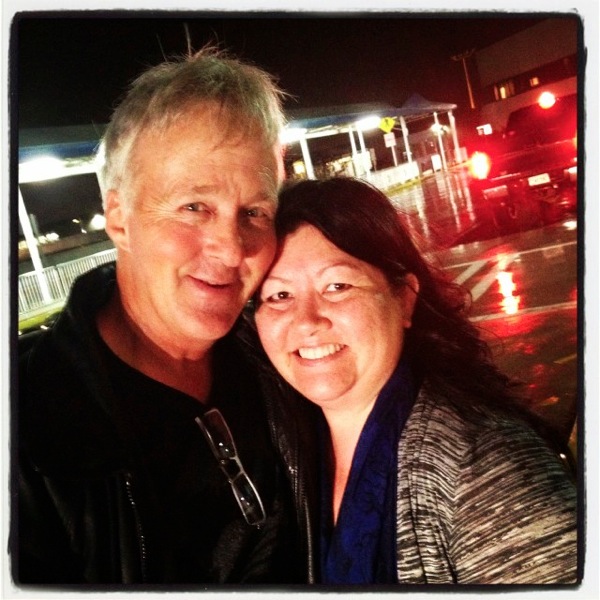 They scheduled another trip to come out and help us, just as Kevin's radiation was getting going.  They stayed for two weeks at the end of January and the beginning of February.  At that point, the radiation hadn't built up in Kevin's body enough to really make him too worn out, but again, God went before us, knowing what we needed more than we ourselves did.  I had no idea how isolated I would feel when Kevin started going to radiation without me.  He got up every morning at 5AM and headed off by 6, and he was experiencing this whole thing all by himself.  Up until that point we had been in this "together" even if he was the one undergoing all the surgeries.  It was incredibly disconcerting and difficult for me to have him going through this all by himself, and so what a blessing, a few weeks in, that once Paul and Lila were here, I was able to go with Kevin to every one of his treatments during their stay.  Keep in mind that Paul and Lila were on Los Angeles time, three hours earlier, and still they got up and took care of those kiddos at 8AM Atlanta time.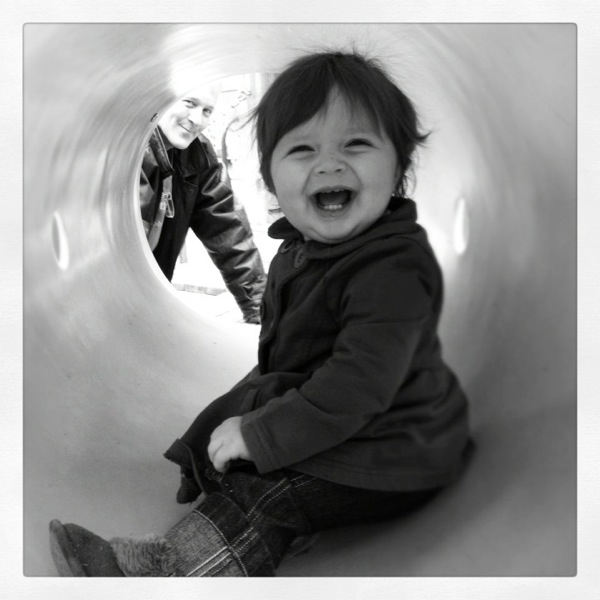 In addition, it was such a joy to have so many of the grandparents in one place together, growing closer in their own friendships, bonding over the love they have for us and our family.  On a daily basis, it has left me overwhelmed.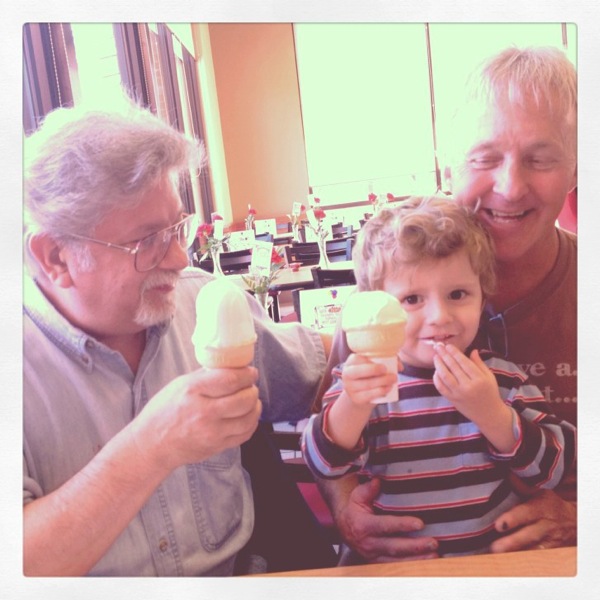 My dad and Paul installed light fixtures, fixed holes in the roof, and just generally got things "shipshape" around the house.  Lila made sure the house got cleaned, the freezer got filled with food, and everybody's hair got cut.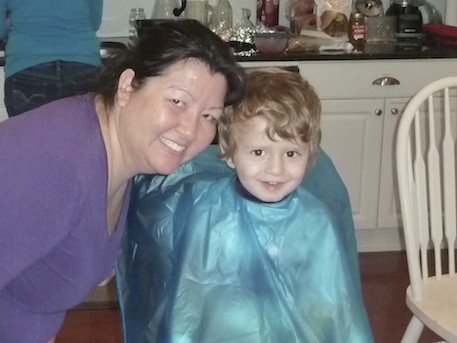 And Kira snuck in from New York City to surprise us for a small, belated birthday party for little E.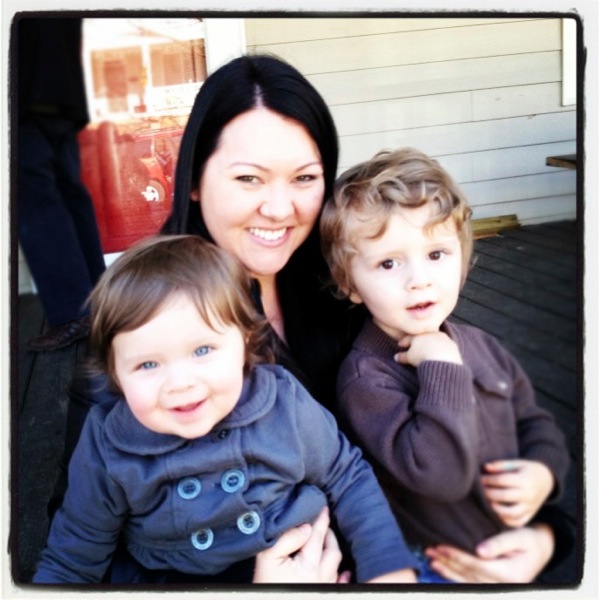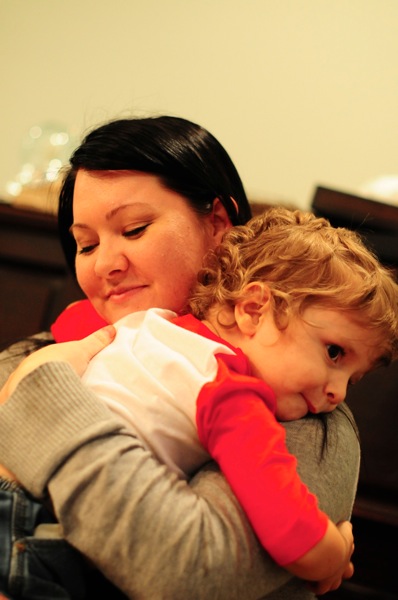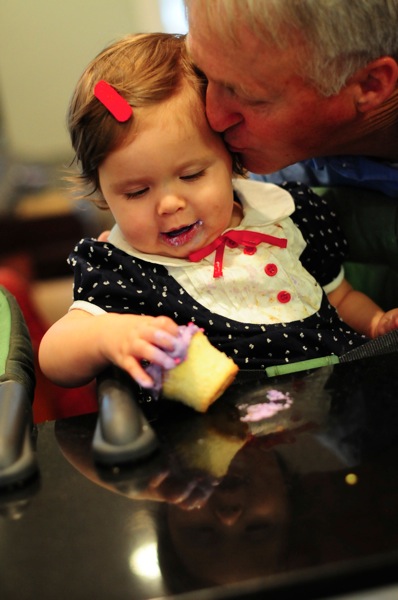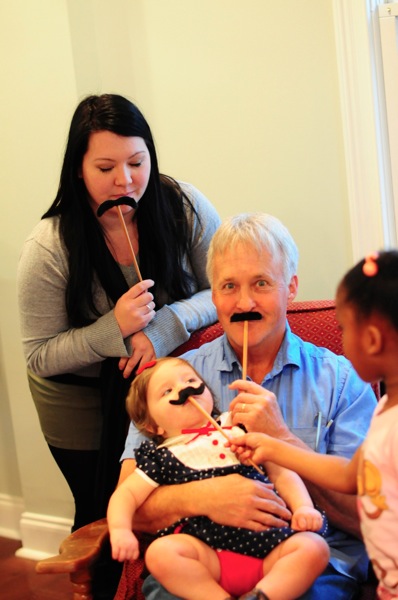 Again, during a difficult and exhausting time, these amazing friends of ours, who for whatever reason, seem to really like us, have just showered us with love, compassion, boundless energy, and such open hearts at a time when we are spent and drained and exhausted in every imaginable way.  We are forever grateful for Grammy Lila and Grandpa Paul and Auntie Kira.  And by the way, Jude says that you need to come to Waffle House with him.  Very soon.