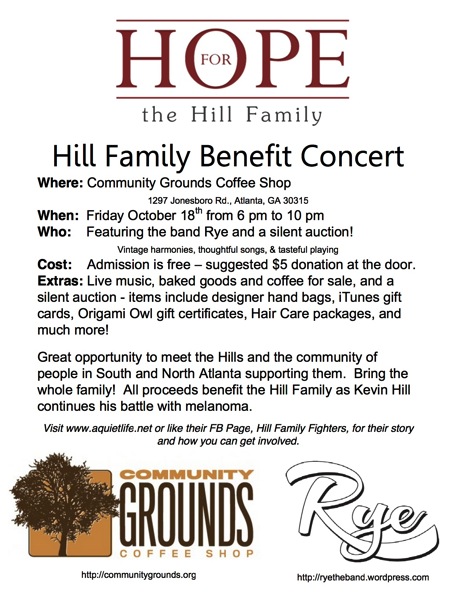 Hey gang, for those who aren't on the social bandwagon, we have a benefit concert coming up.  I know, I know, it feels kind of crazy, since it's just little old Kevin and me and the kids.  But just call it an excuse for a party… we need one badly!  Come on out to Community Grounds Coffee Shop down near our 'hood and enjoy some great music by Rye the Band.  There will be a suggested donation which will go directly toward our family's cancer battle expenses and there will be all kinds of fun raffles, silent auctions, baked goodies, etc.
On that note, my sister is still working on the details and would LOVE it if you have something you would like to donate for the silent auction/raffle.  This can be anything from specific items to a gift certificate for your goods or services if you own a business.  Also, she needs baked goods to sell.  If you would like to help out in any of these areas, please send Sarah Thomas a private message on Facebook.  If you have trouble doing that, just shoot me an email at rachel@micah77.org and I'll forward it on to her.
Even if you don't have money or stuff to donate, this concert isn't so much about that.  God has provided through so many of you that for the time being, our finances are on track for the next leg of the journey.  What Kevin and I really want is to see you!  We want to see so many of you in person who we've only gotten to know through the inter webs and give you a hug, say thank you, pray with you, cry with you, laugh with you.  So come on down, party with us and see us off good to the next leg of our crazy journey!
If you already knew about the concert, BIG NEWS!  The date has changed to THIS Friday October 18th at 6PM.  All the full details can be found at this link:
https://www.facebook.com/events/411433732294704/
If that doesn't work right for some reason, go to
https://www.facebook.com/HillFamilyFighters
That's pretty much home base for everything.  Whenever we post anything, we try to post it there first so that it can be easily shared, and that includes blog posts.  If you like something you read or want to share it with your friends, there should always be an easy little share button next to each post that will let you share about it on your own page.  I am constantly amazed at how all that social media stuff has worked to connect us with so many amazing folks.  And to know that people all over the world are praying for us and lifting us up because of it has just blown our minds at times.  Thank you again people of the interwebs.  You rock!!!
Love,
Rachel