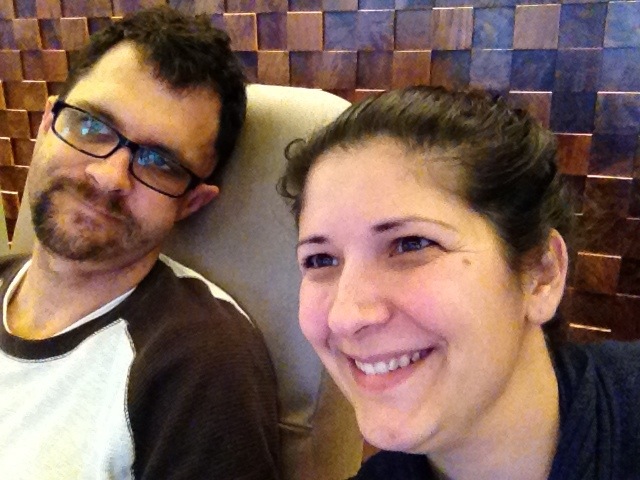 Okay, so this is a CRAZY post. We are still a little confused and don't exactly know what it means, but here's what happened.
Last week we got the results of Kevin's scans which showed that his cancer had progressed and suggested that his current Anti-PD1 treatment had not worked. All weekend we have been praying and crying and asking God for wisdom and discernment as we decided on and prepared for the next treatment option.
Per the rules of the trial Kevin is on, we presented ourselves at UCLA today for his 5th infusion that he got to receive regardless of the scan results. We first met with a cohort of Dr. Ribas, Dr. Glaspy. He looked over the scans and the reports and told us that what he was seeing was NOT suggesting that he would be off the trial and that Kevin's scans showed only slight increases in the size of his tumors and that he did NOT have new tumors (somehow we must have gotten confused about this point). Because of the way this treatment works, immune cells infiltrate the tumors and can increase the size of the tumors slightly before they begin to shrink. This does not mean that the treatment is working, but what it means is that it's not definitely NOT working.
Are you confused? Me too.
Anyway, this is the first not bad news we've gotten in quite a while! Long story short, we went over other options with this doctor should Kevin still ultimately be taken off this trial but then were instructed to make plans to return to UCLA right after Christmas for another set of scans and (potentially) a 6th Anti-PD1 infusion. We have scheduled the scans for the latest date possible at UCLA to give this slow acting treatment the best chance to "prove" that it's working.
How crazy is this? I mean seriously. I have been spending the last four days randomly breaking down into tears in public places and begging God to make it not be so.
What?
You mean we're NOT definitely off the trial? You mean it's not NOT working? Maybe? In fact, maybe it's even a sign that it is? Okay God, whatever is going on, it's at least not bad news, so we'll take it! And we praise You and thank You for being the one who continues to hear our prayers no matter how unreasonable I become.
At church on Sunday we cried and prayed with SO many friends and family who are joining is entreating God to work miracles in Kevin's bodies. Even then I'd been feeling like it was getting unreasonable to think that things still might work out. Our friend Bob Swanson, who married us in that very church seven years ago, stood up and shared the verse that has been Kevin's and my family verse since even before this whole cancer journey got started:
Micah 7:7
But as for me, I watch in hope for the Lord. I wait for God my savior. My God will hear me.
Tears are streaming down my face as I write this. In public. Again. And I don't care.
God HEARS us. God HEARD us. We keep waiting. We keep hoping. But GOD is WORKING. This treatment might be WORKING. That's all I know, and there's not one person on God's green earth who will convince me otherwise.
WE NEED YOUR HELP!
SO, here's the next step we have for now… Kevin has to return to LA right after Christmas. We would very much like to spend Christmas together as a family, and if it's at all possible, Kevin and the kids and I could all come out together and celebrate here in LA. Of course, a quick search on Southwest and Delta suggests that that would be about $2000 worth of plane tickets. Well, maybe not.
But I thought, so many of you guys have helped us out with getting Kevin and I back and forth up until now, perhaps there are others of you who have miles to share that could help us get out here? Because there's Kevin and me and both kids, we could all fly together as four tickets on one plane or two and two, meaning even if someone had enough miles for only one or two tickets, combined with someone else we could make it work.
This would be our Christmas wish to spend it all together and to celebrate hopefully good news with family and friends at our church in Los Angeles. If you think you might be able to help, will you please contact me? I can be reached via email at rachel at micah77.org
Here's exactly what we need:
Flights for four people (two adults and two children) from the Atlanta area to anywhere in the Los Angeles or San Diego area. These could also be two separate flights of two and two (i.e. Jude and Kevin fly on one plane together and Evie and I go on some other separate flight).
Travel to take place to have us in Los Angeles at least on 12/26 and 12/27 (Kevin has scans and infusion those two days) So we would need to arrive BEFORE 12/26 and leave AFTER 12/27. We would love to fly on Christmas Day, we've done it many times before or even earlier in the week. We would really love to be able to stay through the weekend so as to have more time with friends and to attend our home church.
If you have frequent flyer miles that would equal enough for one or two or more round trip tickets around that time, contact me and maybe I can cobble together multiple peoples' miles and make this all work! If you do have miles, don't donate them to us (you lose miles by doing it this way) just email me how many miles you can offer and one what airline and I can see if I can piece it together to make a trip work.
Here is all of our information for booking tickets
Kevin Allan Hill 11/15/76
Rachel Suzanne Hill 5/19/79
Jude Allan Hill 6/26/09
Evelyn Lila Hill 1/1/11