God sent us a miracle on Monday.  This arrived in our mailbox.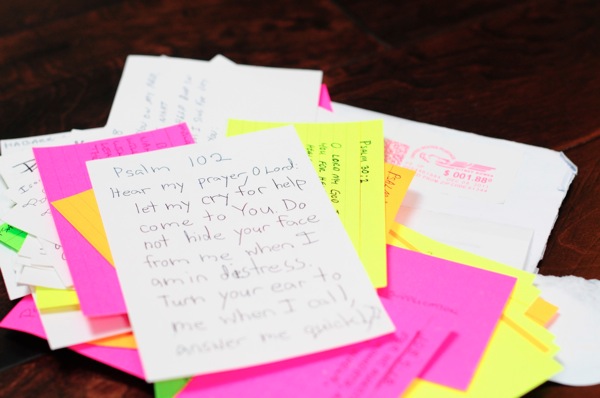 In it was a letter from our dear friend Bob who married us and serves at our former church back in LA.  I had written him asking if he could find a few verses using his mad seminary skillz and write them out and send them to us.  I was looking for strength from a few verses of encouragement, prayer, and praise.  In the letter, he told me that he'd had every member of the men's Bible study at church that he leads using concordances to look up verses that they felt God leading them to share with Kevin and me.  They each then handwrote those verses on index cards, read them aloud to one another, prayed over them, prayed for us, and then mailed them to us.
I was having a particular rough morning on Monday (don't they all seem rough these days?!).  Kevin's doctor's appointment had gone well overall, but his doctor was very honest and realistic with us about the possibility of Kevin not being able to continue to work through this year of treatment, due to how grueling the radiation and the interferon were going to be.  We got a little scared, but tried to keep calm, focus on what we needed to for the moment, and made a note to research our short term disability insurance.  We had stopped at a coffee shop after picking up our mail, and Kevin was visibly tired and not feeling well.  I was worried about him, and he agreed with me that he needed to go home instead of going back in to work.  We were both feeling down, and then I opened this envelope from Bob.
Tears just streamed and streamed down my face as I read verse after verse, many of them obscure, but telling me so perfectly what God wanted me to hear, and shouting His love story to me from the pages of these little notecards.  I was about halfway through when I realized that each man had written a note of encouragement on the back and signed it.  I had to go back through the first half of the stack again!  This time thanking God for each of the many many wonderful friends and family we knew back at Village Church who love us and are praying for us.
But the real miracle is this stack of verses.  They are being taped up all over our house.  They are God's words to me.  His reminders that we can cry out to Him in pain.  His love letters to us.  His words of wisdom.  And the miracle is that He gave to each of us His word to savor, to drink of, to cry over, to rejoice through.  His word is truly a miracle, one I don't think I understood much before this whole thing began.  Today, I am grateful for the amazing miracle of His life giving Word.
P.S.  If you have a Bible verse or any quote or words of inspiration that you would like to send us, I am filling my home with these good messages, literally hiding His Word in my heart.  Please write the verse out completely on an index card and mail it to our mailbox at 1270 Caroline St. Suite D120-202 Atlanta, GA 30307.  Your words of encouragement, verses, and notes mean more to us than you could imagine.