We have been in our new house now for almost two months.  It's hard to believe it!  With all the craziness around here, I haven't had the chance to share much about our neighborhood.  We live in Adair Park in Southwest Atlanta, and it's totally awesome.  It's a neighborhood with some challenges, crime and poverty being two of them.  But it's also a beautiful place with some amazing neighbors, my new friend Maiya being one of them.  Maiya lives right across the street from me and has three of the sweetest girls you've ever met.  We've both helped each other out over the past several weeks, from jump starting each other's cars to me driving her daughter to school when her car was temporarily out of commission.  We've gone out and run errands together, with of course a stop to Waffle House on the way.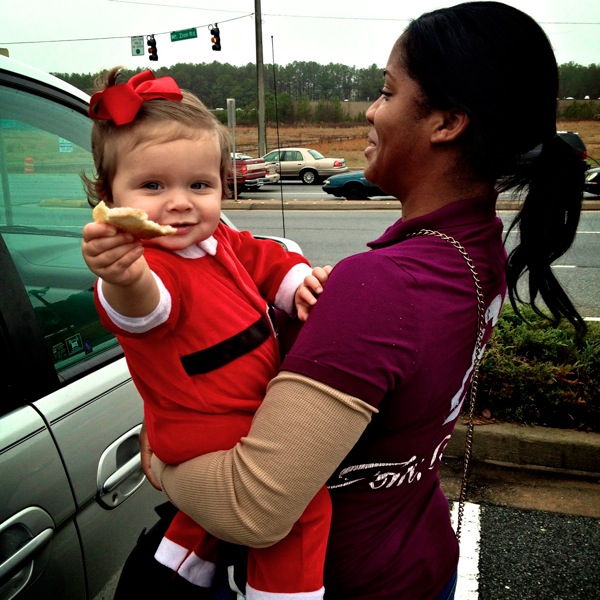 Care for a waffle?
Maiya has checked on me regularly and just shows up with food.  It always seems to come at just the right time.  She checks on me and asks if I need anything when she's on her way to the store, and I enjoy having her over to share a cup of coffee and gap about parenthood.  Jude has really warmed to her, asking if we can go see "Miss Maiya".
I cannot tell you how much I LOVE that we have neighbors who we know and care for and that they care for us back.  We've met lot's of other folks in the neighborhood through our Adair Park facebook group as well, but I've grown very close to Maiya by just seeing her on my street.  I know that when I was little, we knew lot's of our neighbors in our subdivision, but somehow in less than a generation, that's been lost in most neighborhoods.  Now like I said, our neighborhood has many challenges, and it's not a place that everyone would want to live.  But when Kevin and I moved in, we found community in a way that I thought I'd lost and it is truly life-giving.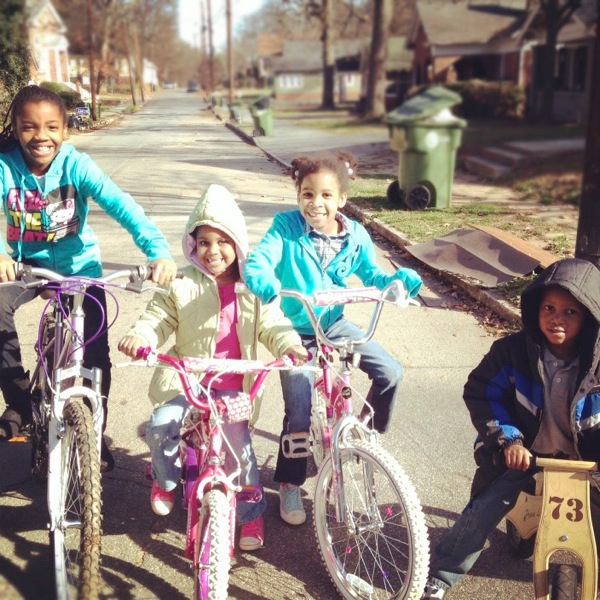 Bikes all fixed up and ready to ride!
Today Maiya's girls were out riding their new bikes that they'd gotten for Christmas.  Most bikes these days seem to not be made very well, and each girl and their cousins were having problems with their bikes.  One after another, I found myself attempting to fix up their bikes, tighten a loose handlebar, a twisted seat, etc.  For about an hour or two It seemed that every twenty minutes, one of the girls was knocking on my door asking for help because something had broken on their bike.  The last thing I fixed was a bike chain that had come off.  I had no clue what to do, because I'd gotten it threaded back on, but it was still loose.  I knew our friend Mr. Tim who runs the actual bike shop ministry in our neighborhood was out of town on vacation, so I called my dad and over the phone he talked me through fixing this little girl's bike chain.
What a sense of accomplishment I had, a sense of appreciation the girls had (and they were pretty darn impressed that I seemed so handy with the tools… I'm good at faking it!) and another aspect of community was fostered through something as simple as fixing a bike.  I teased the girls that they'd wasted all of my kids' naptime when I needed to be working so they'd have to come over and watch Jude and Evie after they woke up so I could get some work done.  They jumped at the chance and at 3:00 showed up ready to play with the babies!  All three girls and their three cousins!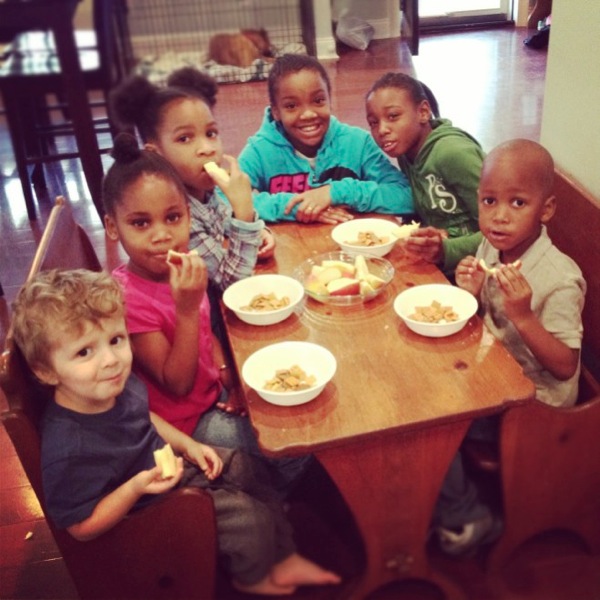 It was mass chaos, but my kids loved it and everyone had a blast.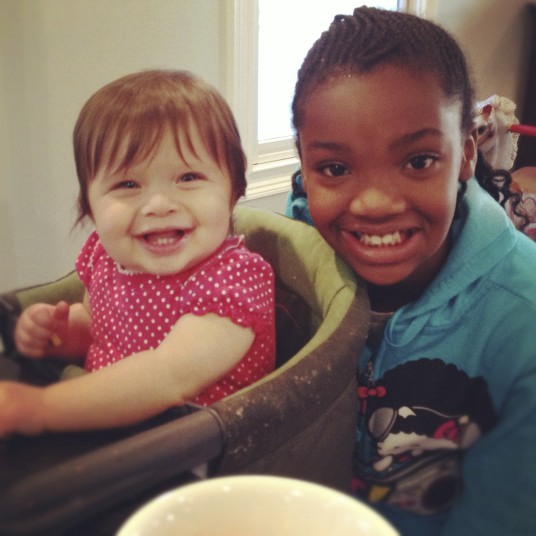 I think I may have found a new mother's helper in the oldest one.
This is definitely something I love about community, a word I am only just beginning to understand.  Thanks girls for coming over and warming up our chilly afternoon!