We found out that one of our friends' parents have named their lake house.  We also ate at a restaurant that was a renovated hundred year old house and it had a name.  We think our house deserves a name, not just the obvious, like The Hill House, but something cooler, with character, befitting the crazy life and love that happens inside.  Let me know in the comments if you have any suggestions.  For now, it's just the Hill House, and we had a fabulous Christmas there this year.  I am SO behind in my blogging, and there's still a lot I want to share, even if it's become out of date, at least because I took the time to take pictures!  So we'll start this post with some "before" pictures of what the downstairs looked like when we bought it.
In case you needed a reminder, here are some before pics: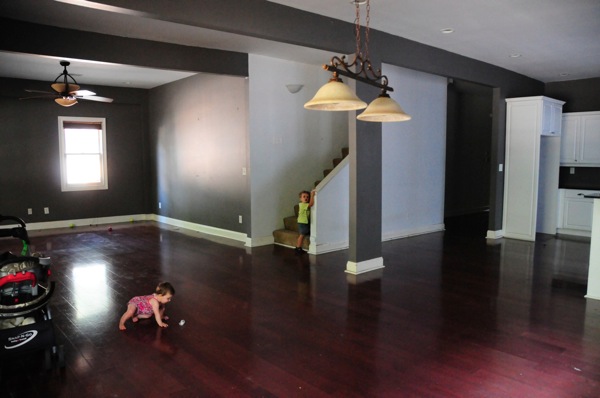 The living, dining, kitchen area and stairs as seen from the dining room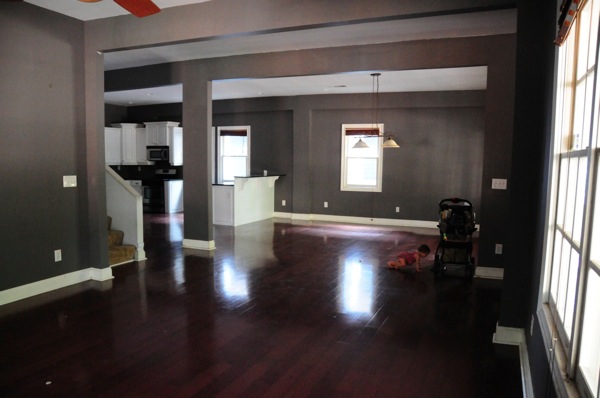 Here is the dining room taken from the living room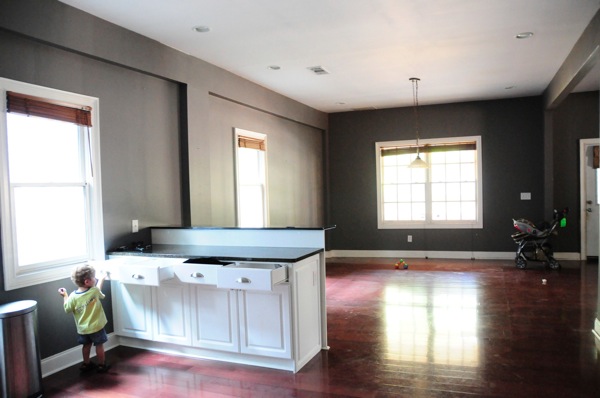 The dining room taken from the kitchen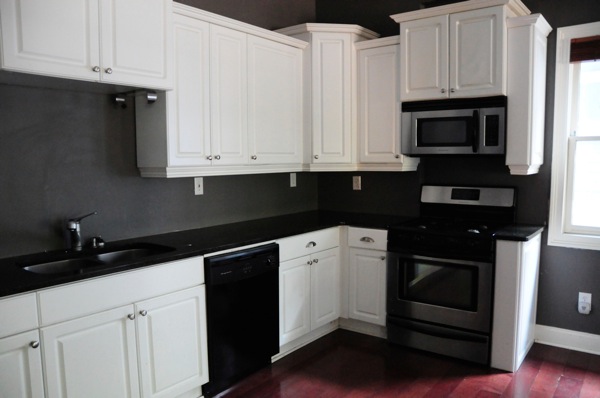 The kitchen
After a fresh coat of paint, some renovations, repairs, and some frugal Christmas decorating, here we are!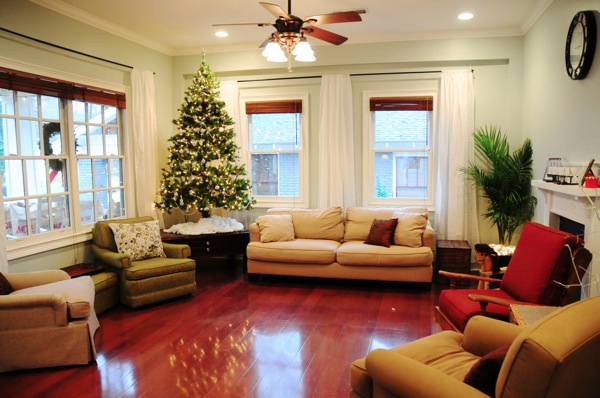 Our Christmas tree that I got for $30 at the Black Friday Sale at the South Atlanta Marketplace, completely decorated with ornaments and garland from Dollar Tree!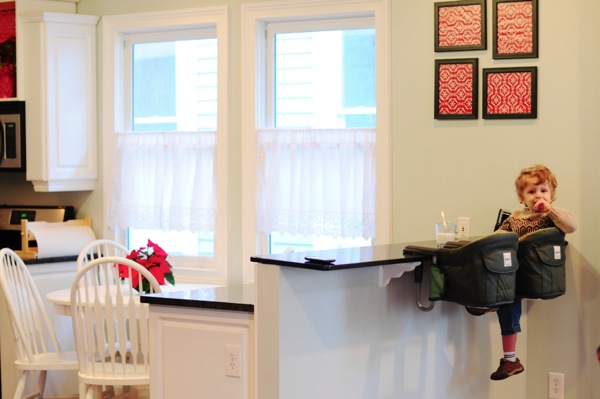 Breakfast bar that my dad rebuilt to support the kiddos in their clip-on chairs… best thing ever!  Also, you can see above some picture frames filled with Dollar Tree wrapping paper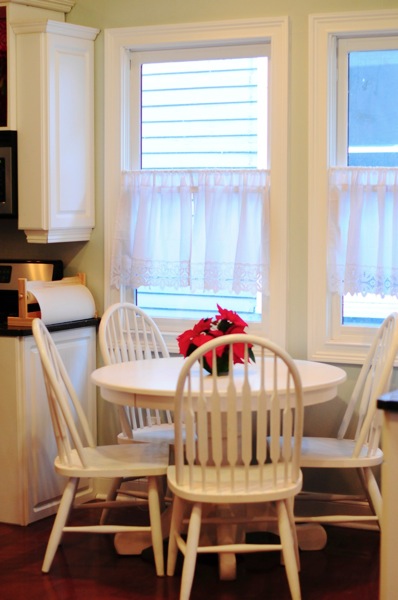 Our $100 Craigslist kitchen table and chairs with white battenburg half-curtains from Anna's Linens.  This table has transformed our kitchen… loooove it!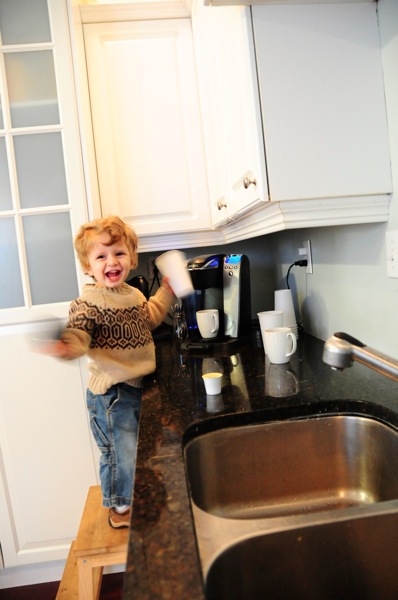 Jude making me coffee in our beloved coffee corner.  You think I'm kidding, the kid makes a mean cappuccino!
Again, don't call DFACS on us.  He always tells me to stand back when the coffee's brewing, telling me it's "hot.  hot!"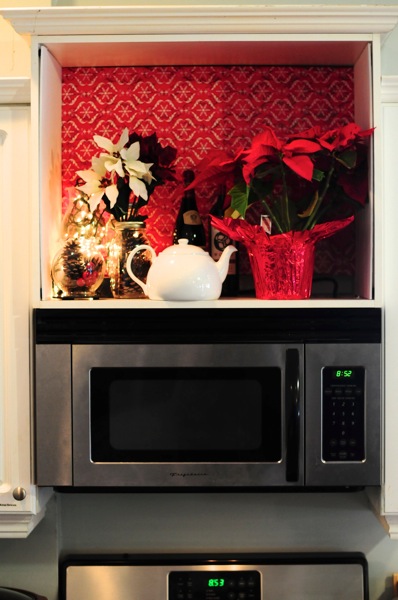 The kitchen cabinet doors are made of melamine, and the ones above the stove had pretty much melted.  So we took them off and turned the space into my "decorative corner."  For those who know me, I'm not very "decorative", but I had fun covering some foam core with more dollar tree wrapping paper and setting it against the back wall as well as cutting plain foam core to size to tape to the sides of the cabinet to cover the screw holes and microwave outlet.  Way cheaper and easier than spackling and repainting!  Now, what do I do with this spot after New Year's?!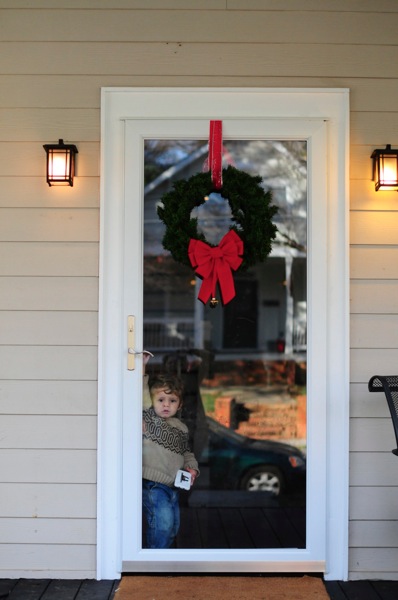 Front door wreath, $3 from the thrift store, Dollar Tree bow wired on with a trash tie,
& Dollar Tree ribbon as a hanger, taped up with Gaffer's tape (the bomb tape, but NOT cheap!)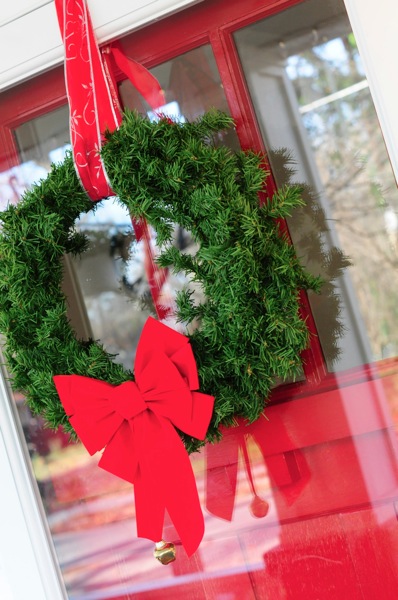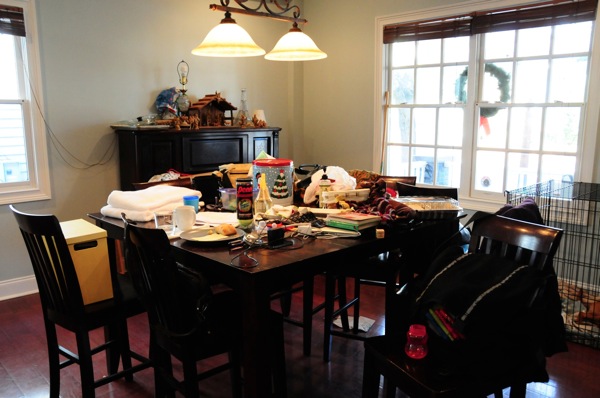 I would be remiss if I didn't show you the true picture of what our house looked like the day I took these pics.
This is all the crap I moved OUT of the pictures to make the house look all nice and pretty.
Remember when you read design blogs and magazines… these pictures are STAGED!
And probably even more than mine were!  Merry Christmas and Happy New Year!