Warning:  I use the F word and the S word in this post.  I use it not in vain, but to make a point.  I hope you won't be offended, but if you think you will, you might want to pass on this post.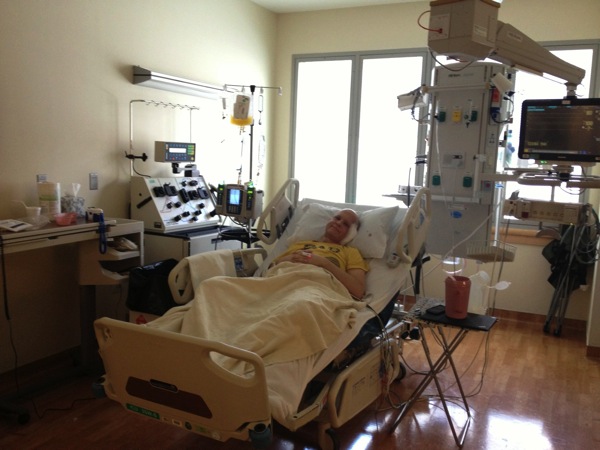 I find it so hard to write in the ICU.  There are constant beeps and buzzing and the intermittent sound of the oxygen tanks starting up (which Kevin refers to as the "launch sequence").  For as much as it's hard to write, it's even harder for Kevin to sleep.  We thought the interruptions on his regular floor were bad, but they are nothing compared to the ICU.  For one thing, he doesn't have a regular door.  It's a glass sliding door, so all the light and distractions from right outside his room are constantly spilling in.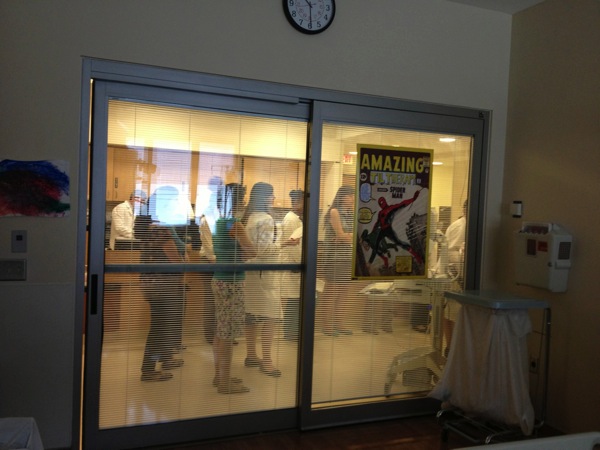 Then, every time the door slides open, even if it's relatively quiet in his room, the noise from everyone else's machines keeps us in a feeling of anxiety.  So I have slipped out for a few moments to try to write something coherent.  I found a beautiful little sitting area bathed in sunlight.  A gift.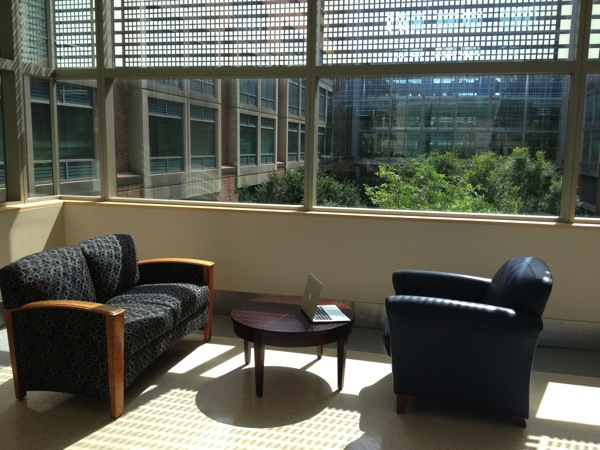 Today marks seven days that Kevin has been in the ICU.  Even though God has granted us mercy by saving his life last weekend, we are constantly reminded that things are still VERY serious.  Every day since Monday, there has been talk of him stepping down from the ICU.  And every day something has happened to make the decision for him to remain.  Even if he's feeling relatively well and was finally able to dress and get out of bed yesterday, the fact alone that he is still in the ICU means that things are critical.  It's been hard to wrap our minds around that.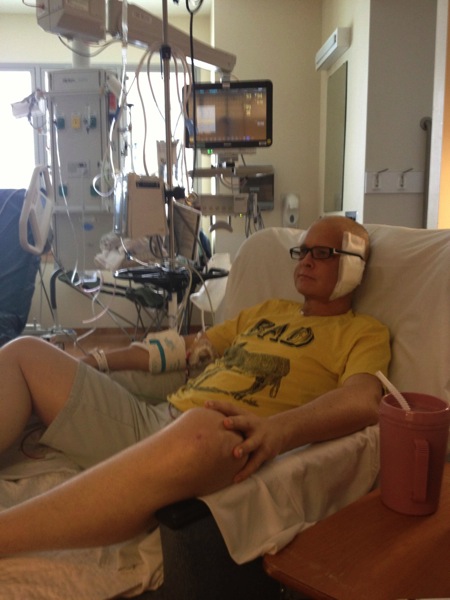 Even when they told us last Friday how serious things were, and that if the interventions didn't work he'd be gone in three days, he felt fine.  Well, as fine as you can feel after you've had your entire immune system destroyed, a new one infused and carefully grown, and then the new one tries to kill you.  But still, he was sitting up, working on his laptop, able to walk around some.  It was hard to understand where we stood with things.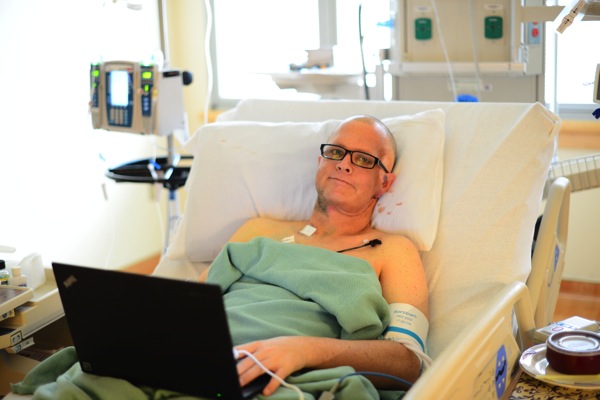 After the drama with our nurse on Monday and Tuesday, both Kevin and I were pretty well on edge.  And on Wednesday, we both had our long overdue meltdowns.  I got to have mine in the morning and he waited until the evening to lose it.  We both cried and cried into each other's arms.  We have both been so scared, and also so overwhelmed with where we are.  The biggest thing that has hit us both though, has been, why hasn't it been worse?  I see folks in every room of the ICU except his who are hooked up to breathing tubes, feeding tubes, lying semi-conscious, looking like they are at death's door.  And in some sense, they are.  And it's a terrifying thought for Kevin that he might ever get to that state of helplessness.  But as we cried and talked, we were both so convicted about how selfish we have been.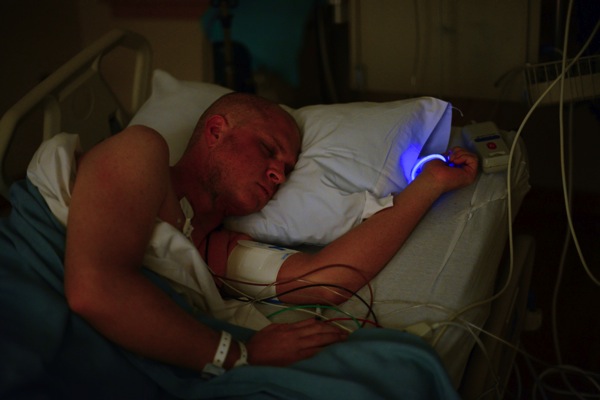 As we cry out, "God, why us?"  the true cry should be, "God why not us?  Why isn't it even worse?  Why have we been so well cared for?  Why is Kevin NOT hooked up to a million tubes instead of just a few thousand?  Why were we granted mercy and another day?  And another?  And another?  And another?"  In fact, as we broke down and God melted our hearts, we were so incredibly convicted of the truth that maybe we'd understood, but never really submitted to.
We are sinners.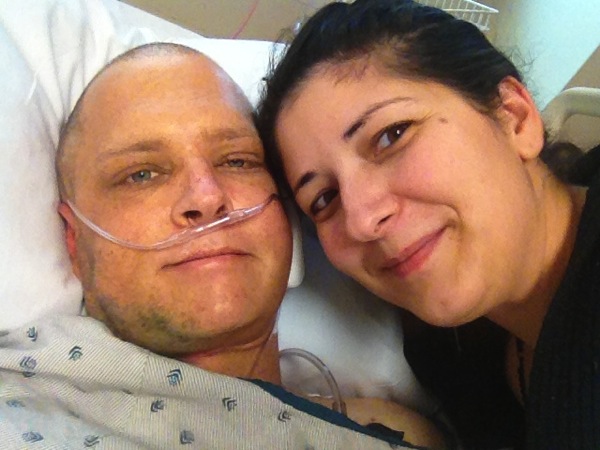 We have heard people say to us, "Your faith is so strong.  You guys are amazing.  You are such a great caregiver.  You are such a strong fighter.  etc. etc. etc.."   And after a while, we started to believe it.  Without even realizing it, in the midst of our gratitude, we started to feel a sense of entitlement.  Yes, we thought, we do deserve for Kevin to be healed.  Yes, we do deserve for the church body to rise up and care for us through meals, money, gift cards, time, prayers, etc.  And without even knowing it was happening, we became selfish.  Or really, we already were.
We both praised and thanked God again and again for saving Kevin's life last weekend.  But by Monday, we were grumbling about being stuck in the ICU.  Kevin was grumbling about wanting to get back to his Tempur-Pedic bed on 3NW.  I was grumbling about his nurse, my sister, my back, my iPad.
How quickly we can forget God's mercies.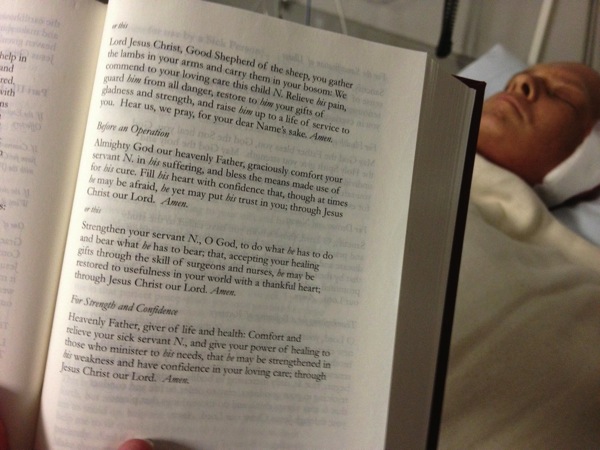 That night, after having more than a few good ole cries, we dropped to our knees as best as one can in the ICU, held hands, and asked God to forgive us.  We thanked God for His mercies.  We thanked God for His many blessings He has bestowed upon us.  We thanked Him for sending Jesus to take our place, because we knew, we just knew, that however real this felt in that moment, we'd sin again.  We needed Jesus now more than ever.  Because sinning seems to be what we humans do best.  Or in less elegant words.  We fuck up.  a lot.
Forgive my language, but I feel it's important.  The word sin has been used in so many ways as to almost lose its meaning at times.  I think the reality is that, in the words of a favorite movie of ours, "I think we might be fuck-ups."  And somehow we never fully realized it before now.
That's the thing.  A fuck-up doesn't intend to be.  It's not really on purpose.  It's just that he screws things up again and again and again.
And it's so incredibly convicting when you realize that you're not this awesome person deserving of the blessings of God, but instead, a royal fuck-up.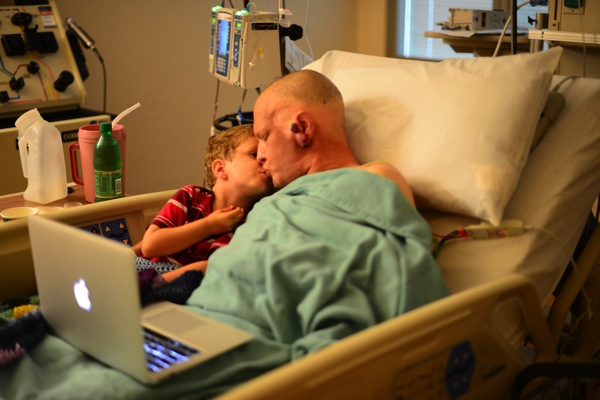 But then, and this is the good part, we remember that God LOVES the fuck-ups.  When He sent His son to earth, Jesus didn't hang out with the super spiritual people, He hung out with the losers… the ones who could never quite get it right.
His closest friends were fuck-ups.  Time and time again, Jesus would show them a miracle, and have to say to them, "Don't you see?  Seriously?!  You don't get it?"  And after seeing miracle after miracle and literally walking in the presence of God, those same friends were the ones who ran away scared when the proverbial shit hit the fan.
We truly thought Kevin was going to die last weekend.  We knew he might not, but also understood it would probably take a miracle.  And then God gave us miracle after miracle after miracle!  But amazingly by Monday we'd managed to forget and run away scared, just like the disciples.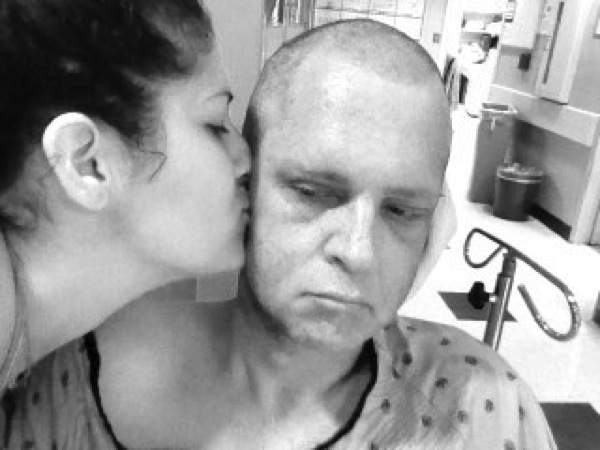 There was a Catholic Chaplain intern who came in a few weeks ago and sat with me and let me pick his brain for a bit on prayer.
One of the simplest prayers he shared with me, for those moments when you don't know what else to say, is this:
Lord have mercy on me, a sinner
As I heard it, my pride even then didn't like the idea of that prayer.  Yet now I understand.  And now I pray, we both pray, and we know we will need to pray again, and again, and again, and again:
Lord have mercy on me, a sinner
We have a 90% chance Kevin will be leaving the ICU today!  We are overjoyed to get back to his other room, the one that only a week ago I was desperate to go home from.  We will probably be there for a loooong time.  Lord, have mercy on us.  Grant us patience today and tomorrow and the next day.  Grant us graciousness to stay in 3NW as long as it takes for Kevin to recover.  Grant us joy and remind us of the miracles you have worked in our life.  Thank you for giving us another day today.  And when we forget, and begin to grumble,
Lord, have mercy on us, poor sinners.
Lord, THANK YOU for having mercy on us, poor sinners.