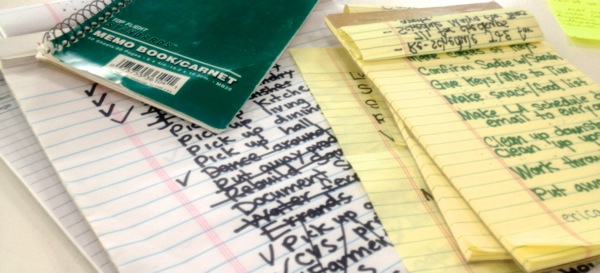 I am a compulsive list maker.  When I was first diagnosed with ADHD as an adult, one of the components of my "treatment" was to find a good time management system (In case you're wondering, the other components were at least one hour outside everyday, at least one hour of physical activity every day, and at least an hour of quiet, meditative time).  In the seven years since I began my journey of learning about living with and managing my ADHD, I have found and abandoned several time management "systems".  I've read books like Getting Things Done and ADD Friendly Ways to Organize Your Life.  I've found lot's of good tips and tricks along the way, many of which have, at various times, enabled me to find a sense of settledness and peace in a brain that often feels like it is in overdrive.  But in my quest to cultivate better time management skills, I also bought into the productivity monster.  Kevin came along for the ride, and he too has struggled with now feeling like being more productive was one more thing we had to "do."
I have started to realize that time management and productivity are two very different things.  One was a prescription given to me as part of a wholistic approach to find inner peace in a brain that is wired a little differently than many others'.  Time management should give me tools to literally manage my time, take control of my time instead of letting time control me.  Productivity, on the other hand, is literally about, well, getting things done.
Back to my lists.
In my quests for what I thought was better time management, the one thing that I carried across all of my different approaches and systems was making lists.  I would have so many things jangling around in my brain, and so I would sit down and write a list to get everything out of my head.  I would have dreams of projects for our house, so I would make lists of those.  I would make lists of things I was grateful for.  I would make lists of things I wanted to change about myself, areas in which I wanted to grow, books I wanted to read, and even attempted to have lists of elaborately detailed daily and weekly schedules.  I would make meal plans, schedules for the children, weekly activity lists, and even curriculum ideas (because you know, Jude's three and all).
I would sit down and make a list, or more often three or ten lists.  And I would feel better.  I would feel like I had a plan, and now all I had to do was work it.
And then I would lose the list.
Or I would forget about it.
Or my child would turn it into artwork.
Or the dog would eat it.
Or most often, it would simply get buried in another pile of papers somewhere in the house.
And I would feel like such a loser because I couldn't even get anything done on a stupid list.
List making was obviously not leading me to inner peace.
I know you're wondering, what does all this have to do with the oh so spiritual sounding blog post title, "How to be Still"?  Trust me, I'm getting there.  Plus, I'm not really as spiritual, or prayerful, or meditative as you think, but it's written down on one of my lists to work on!
About a month or so ago, I had been meeting with a few dear friends from our neighborhood.  They are a married couple who are a little older than us, and have ministered to us in many ways since we moved in.  They had come over to pray with me (well, us, but Kevin was upstairs sick)  They asked me what they could pray for for me (this was before Kevin's recurrence) and I said that I was having so much trouble being able to pray myself.  I said I was usually able to find the time to pray, as my kids, mercifully, have a good and predictable sleep schedule.  But that when I would try to sit down and pray or study my Bible or a devotional, or anything, I would inevitably get caught in a literal whirlwind of trying to start a load of laundry first, feeling like I needed to clean up the porch, or empty the dishes.  I would sit down to pray and constantly jump back up, getting caught and jostled around by my own overactive brain that was now telling me I had to be managing my time in a productive way, and yet I'd still not really figured out how that was all supposed to play out.  But in the end, it was something that was really preventing me from being able to sit and be present with God.
And I had no idea what to do about it.
In their wisdom, John and Rachael did not give me suggestions, but simply said, well, then let's pray for God to help you with that.  It felt silly.  Here I was, with a husband with cancer who was sick as a dog from interferon, a million other daily worries, and we were going to pray for God to help me get on top of my "time management" so I could figure out how to pray for more than eight seconds without my brain or body wandering off.  But since they were the ones doing the praying, I gratefully accepted and bowed my head.
The next morning, I woke up, feeling not exhausted, but energized, and ready to get out of bed.
It was 5:30 in the morning.
For those of you who know me, I really don't like getting up early.  In fact, I really like to sleep a lot, and my dirty little secret is that my kids sleep until 8, and so I will often dose lazily in bed until their morning chatter turns into insistent cries.  Only then do I drag myself out of bed, come down and free them from their cribs and start another day where I usually forget to shower and it takes me an hour and a half to get the dishwasher unloaded.
But this morning, I felt awake, and something told me I should go ahead and get up.  Let's just say it was God.  I can't really say, but I figured I should do it.  I took a shower, got dressed, and found a spot for myself on the front porch with a notepad and a cup of coffee.  I remember thinking to myself how nice it was to be up this early.  It wasn't so hot.  It wasn't noisy or stressful.  It was quiet, still.  I thought I might as well go ahead and pray some, and so I did.  But as soon as I closed my eyes, thoughts about the house, the kids, life, started to bombard me.  So I opened my eyes, and I started to make a list.  But this time it was different, and I know this will sound silly to many of you, heck it feels silly to even say it, but I truly believe that God gave me this list.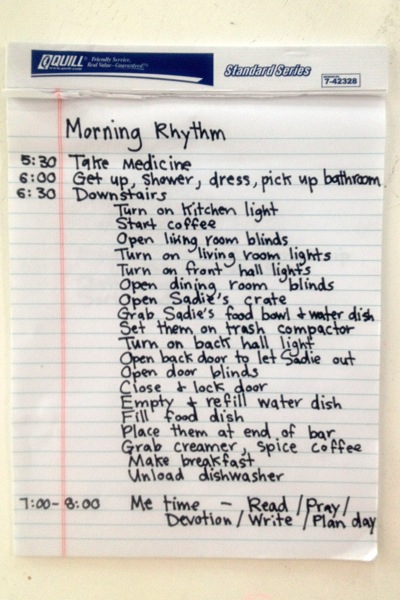 As I was writing it, I got up out of my seat and went back into the house.  I walked around, thinking about how large the house was, such a blessing, but also such a challenge for someone with ADHD.  I knew that so often I was running from one end of the house to the other, or literally spinning in circles as I made my way through the many moments of my days that constantly screamed out for attention.  I started to carefully think about what things were important to me to get done in order to feel like I had a peaceful morning.  It was less things than I thought.  I started to think about the order in which I could do them so as to be making a smooth circle around the house, with little overlap, a motion that felt productive, kind to my future self and in a way that accomplished the basic tasks of my morning, yet required VERY little from me in the way of brainpower.
I realized that, by setting my alarm for 5:30 and taking my ADHD medication, then snoozing for another half hour, I got my desire for dozing in, I gave my medicine a half hour to wake up my brain, and that in a fairly leisurely hour, I could find myself sitting on my porch, dressed, fed, with the house turned "on" for the day, the dishwasher ready to receive dirty dishes, and a peaceful, quiet spirit by 7 in the morning.
The next morning, I tried out my plan.  I walked through all the steps, my list in hand (which I had somehow managed to not yet lose!)  I followed everything exactly on the list, and I was amazed at how by 7:00, I wasn't exhausted, but refreshed.  See, I'd been accomplishing lot's of things for the last hour (productivity) but my brain didn't have to make a single decision!  I flopped comfortably down onto the porch swing, coffee in one hand, devotional book in the other.  I sat and read!  I closed my eyes and prayed!  I was peaceful, calm, and still.  I remember that I actually sat, eyes closed, brain resting, and simply listened.  For the first time that I can EVER remember, I have felt quiet and still at the feet of our Lord.
Prayer has been a GIANT struggle for me all of my life, and something about which I have not often shared.  I don't know why not.  It just seemed like, well, embarassing, frankly.  But I've been meeting other friends who have gone through similar journeys as Kevin and me and they have shared openly and honestly in their writings with friends, and I have found it so affirming and encouraging.  So I figured I should open up a little bit more about the real personal stuff, like ADHD, my compulsive attempts and failures at list-making, and my struggles with talking to God.
I'll be honest with you, I'm really not exaggerating when I say that my mind wanders EVERY SINGLE TIME that I try to pray.  And it often starts to wander in the first five or ten seconds.  I read about the great theologians who would spend hours or days in prayer and quiet meditation.  I hear friends sharing about praying over ever single chemo infusion.  I hear from so many people in my own network who tell me and Kevin that they are praying for us, every day, that their kids pray for us at night-time prayers, and I feel like a failure at prayer!  I don't even pray every day.  I don't do prayers with the kids… we're all so exhausted that I often just give them a baby wipe bath and toss them into their cribs and walk out the door.  (Again, it's God's tender mercies that my children have tolerated this)  I don't read my Bible or meditate on scripture.  I have verses taped up all over the house, and they often give me short moments of peace, or help me talk myself off the proverbial ledge, but I don't ever have serious, real, grown up prayer time.  It's not that I don't talk to God.  I ramble on and off with him throughout my whole day.  They are often more like outbursts, though, simply, "Lord help me!"  or "Seriously, God?!"  Or more often these days they take the form of groans and incoherent cries.
But to find a place of stillness, peace, quiet, solitude with God.  That is something that has always eluded me, even before cancer.  As I have gotten farther along on my ADHD journey of self-discovery I have gotten better, sometimes.  Sometimes, when I'm off at a retreat, with no distractions, no phone or laptop to tempt me, and no one else to talk to, then I might be able to sustain conversation with God for oh, 30 seconds or so before my mind wanders.  And more often than not, it wanders onto the stupidest stuff, like how I wonder if I could make my own backsplash on my kitchen and how much would the materials cost?  I feel like such a loser!  30 whole seconds?!  In the most perfect, most conducive of environments, that's the best I've got?!  I think about how we don't do things in our own strength and I try to give it up to God, asking Him to give me more of Him, less of me.  I ask Him to help me focus, and then I start thinking about tomato sandwiches.
So, back to my morning rhythm.  I like calling it that, a rhythm.  I've tried schedules and other than nap schedules, they really don't work for me.  They're too rigid.  I've also tried rhythms and routines for our whole days, and too often the outside world has invaded, throwing my precious meal plans and weekly activity schedule to the winds.
But mornings, mornings are a good time for me and rhythm.  Mornings are a time that, if I can follow my rhythm, reward me with quiet, peace, and sameness.  In this season of life where every day is different, the early morning is always quiet.  The early morning is a time that I can manage.  And the gift that God rewards me with is an opportunity to hear from Him, an opportunity to simply rest at His feet, in quiet and stillness.  Sometimes neither of us say a whole lot, but amazingly, my mind doesn't jump in to provide a distraction.  I don't know what it is about this rhythm for me.  There is nothing magical in it.  It was carefully written, and took into consideration my own needs, the needs of my children, and the constraints of our wonderful, blessed, very large house.  It makes sure that I have lot's of light in the morning (all of our lightbulbs are daylight balanced CFLs, so each one feels like an extra ray of sunshine in the morning).  My rhythm makes sure that I don't have SO many dirty dishes by the end of the day that I want to go hide in the closet.  My rhythm makes sure I've gotten a shower and some food before go time with the little people.  For whatever reason, and the reason I believe is that God gave it to me, this rhythm carves out an hour just for me.  An hour for me where I can find a place of stillness and a place of peace.
I'm sharing this with you in hopes that it can be an encouragement and perhaps another tool that could allow you to carve out a place to be still in your own life.  I'm sharing this with you today because I believe God wants me to, and I hope it will edify you.  This is NOT a productivity list.  It doesn't get everything done that needs to be done in my day, in fact it makes no attempt to do that.  But it is a way to manage one small chunk of my day that is actually manageable.  And in managing that, it has given me the gift of stillness with my Father.  I hope my sharing will bless and edify you today.  Peace to you my friends!