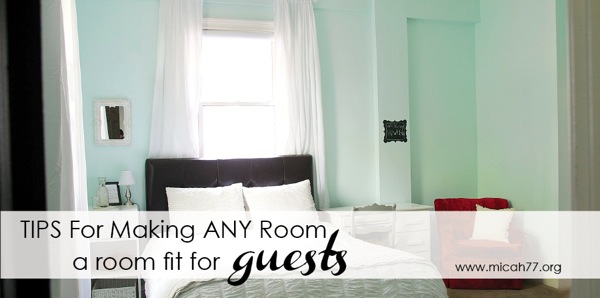 While we are ticking off the days till Kevin's next scans and making other pre-emptive treatment plans, I thought I'd digress a little from cancer news and write about fun stuff this week.  I'd always envisioned this blog more as a place for fun little posts like this, and I suppose there's room for both kinds, right?  More celebrations posts to come this week too!
When we were looking for a house, one of the things we knew we wanted was four bedrooms.  We only had two kids (and knew already that we were a "two and we're through" kinda family), but we really wanted that fourth bedroom to use as a combined office and guest bedroom.  So when we ended up in a house with four bedrooms AND a separate office, we were overjoyed that we could have a dedicated guest bedroom.  And when I say we, I really mean me.  This was my little room to decorate and make sweet and special.  I like to call it The Hill Family Bed & Breakfast.
Little did I know that we would end up really needing to use it this last year.  Between all of Kevin's surgeries, radiation, and other various treatments, we have had many, many house-guests come to visit and help out.  It's been SO wonderful to have a separate space where our guests can retreat and relax, and I've really worked to make the space as comfortable and useful as possible.
I've definitely had the chance to put this guest room through it's paces, and while not everyone has a separate, dedicated room for guests, I hope that all of you will find a few tips here that will be helpful as you prepare for your own guests this upcoming holiday season.  Most of these ideas can still be used whether your guest is couch surfing, sleeping on an air mattress, or borrowing the kids' room.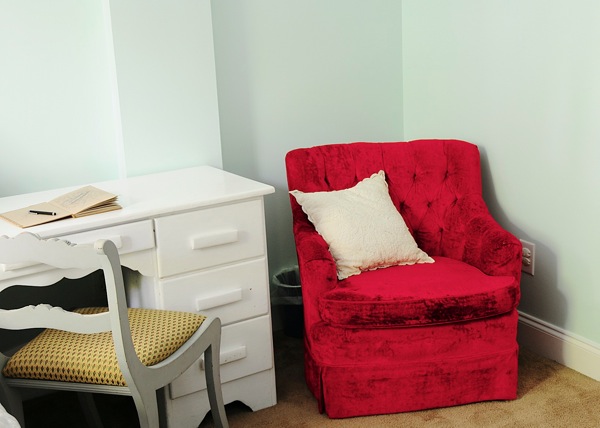 Have lot's of clear, horizontal surfaces
When decorating this room, I was just itching to put out lot's of lovely little knick-knacks and such to make the room as homey as possible.  But I realized that when my guests were here, they needed all that space to put their stuff.  So now I try to leave as many clear surfaces as possible in the guest room.  I also try to keep lot's of horizontal spaces clear in the common areas of the house as well for guests to set down their bags, keys, phones, etc.
When guests are in an unfamiliar room, it can be difficult to stumble back to the bed after turning off the overhead light.  A simple bedside lamp adds a welcoming glow to the room.  I also added a night-light to the room on the advice of one of our aunts.  It makes it much easier for guests to find their way to the bathroom in the middle of the night and I put it in an outlet along an open wall, so it's easy enough to unplug if they find it distracting.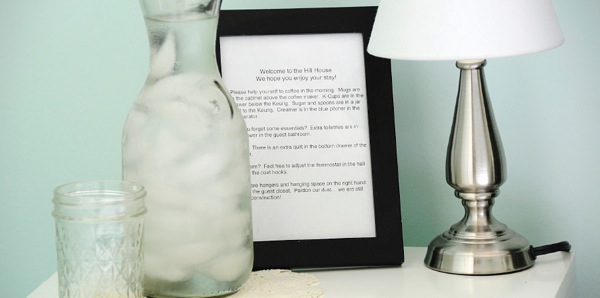 Provide water and light refreshments or information about how to find them
I like to set out a carafe of fresh water and a glass in case my guests need to take bedtime medicines, etc.  I also printed out a simple little note with information on where to find coffee and other snacks in the kitchen and how to adjust the thermostat, where to find more blankets, etc.  It was easy and fun to make my little sign and I just popped it into a dollar store frame.  And it totally makes me smile.
It's nice to have somewhere else to sit and enjoy some quiet time reading a book or working on the computer without always having to perch on the bed.  If you have space for two or even three seating options, that's a bonus!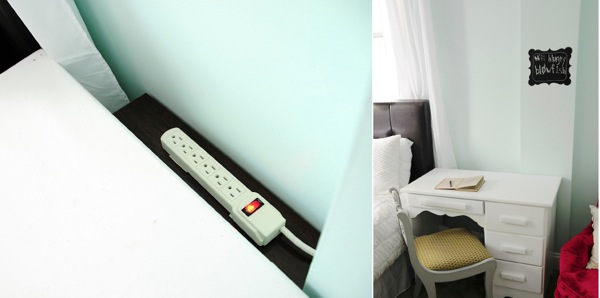 Provide the wifi password and extra outlets to power up
My friend Erica gave me this little chalkboard decal and I knew it would be perfect to put the wifi info on, since my husband is forever updating and changing it.  Visitors love being able to log right on after they've settled into their room for the night and not have to disturb us for the password.  I also tacked a little shelf up right behind the desk and placed a power strip on it.  This way my guests can plug in without having to crawl around on the floor, but they don't have a nasty pile of cords taking up their workspace.  I'd like to eventually replace this strip with one of those new fangled ones that has USB charging ports built right in.  One less thing for my guests to have to remember!
Put a clock in the room, but not if it ticks
It's very nice to have an extra clock when you've been travelling, especially if you are in a different time-zone or you're on someone else's schedule. But if the clock ticks, put it in the bathroom instead so it doesn't keep your guests up all night.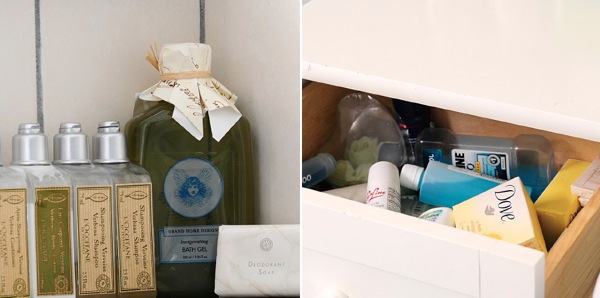 Provide extra toiletries and make sure your guests know where to find them.
I know I am always forgetting something when I travel.  So to make my guests more comfortable, I dumped an assortment of hotel toiletries and other necessaries in the top drawer of the guest bathroom.  I also made sure to include some packages of feminine hygiene products, because trust me, that is not the thing that you want to ask your hosts for in case you forgot to pack them.  Not that it's ever happened to me before or anything.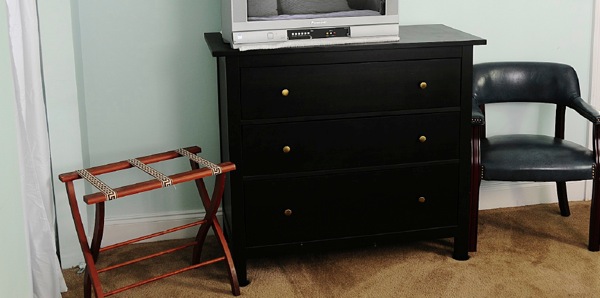 Provide a place to put their suitcase and a basket for dirty laundry
I found this luggage rack at a thrift store for ten bucks and I love it!  It makes me feel like I'm running a real little bed and breakfast!  I also stuck a small laundry basket from the dollar store in the room so guests have somewhere for their dirty laundry to collect.  You could even line the basket with a plastic bag in case your guests prefer to bring their dirty laundry back in their suitcase with them instead of washing it before they leave.
Some other things that are nice to consider for guests:
If you have a TV in the room, print out clear, simple instructions for how to use it.
Put a blank notepad and pens into the desk drawer, along with perhaps a city map, bus or subway schedule, and a subway card.  Pizza or takeout menus could be nice too.  Think of the types of things you've appreciated at a nice hotel stay.
If your guests will be coming and going separately from you, provide a set of keys and clear, written instructions for how to work the alarm.  Put the alarm info on the back of an old business card so they can slip it into their wallet.
Clear out space in the closet and leave some empty hangers for your guests.
Not all of these tips will be relevant to everyone, but I hope that implementing even a few of these ideas can make hosting during the holidays easier and more enjoyable for you and your guests..
I hope you also enjoyed seeing a few pics of our guest bedroom.  It's my chance to slowly start showing off little parts of our house.  It's still a work in progress, (as are all of our homes, right?!) but I'm enjoying whenever we have a few moments of peace to fix up our house and make it even more our home.  I want to get some art up on the walls, and I've already put some new lamps in (one on each side of the bed.)  I'd also love to place a hanging lamp over the armchair for reading, and do something to tie in the red chair with the rest of the room (hopefully with art).
Well, I hope you all have a wonderful start to your holiday season.
And to all our friends and relatives who are far flung, come visit us, the door is always open, and the coffee is always ready!