Sarah here. Rachel called me this evening with Kevin's news.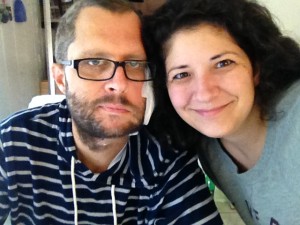 First the Liver Update:
Kevin's liver levels haven't come down by much – they are essentially stable, but high.  He also has a sustained fever of around 100. The GI specialist had a consult with Rachel and Kevin telling them Kevin's doctors were going to wait until Monday to insert the bile duct stent as this procedure is complicated by the tumors and they want to bring in the specialist to do it – who isn't available until Monday.  However he assured Rachel, after much questioning (she's a great patient advocate for her man) that while his levels are elevated he is not in eminent danger of liver failure and that waiting until Monday will not harm him.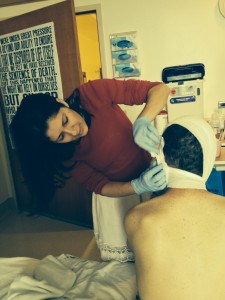 The Cancer Update:
Kevin continues to take the BRAF inhibitor, dabrafenib, every 12 hours and is also on an antibiotic as a prophylactic in hopes it will help with the fever, although the doctors do not detect any infection.  His nausea is under control with medication, which makes him quite tired, but he gets little rest as he is constantly interrupted by medical professionals taking his vitals, blood samples for labs, etc. While the doctors are focusing on his liver for now, assuming that his lever levels are under control within 3 weeks, he will have his next chemo treatment.  If he is well sooner, there is the possibility of a second dose sooner.  For now, his doctors will leave him on the originally determined schedule of one dose every three weeks.
Kevin's back hurts due to the terrible support that comes with hospital beds but he is relatively comfortable. They are spending their time praying and listening to sermons that bring them comfort. Jude and Evie, who are staying with Paul and Lila Vornbrock (the children's adopted grandparents) about an hour away, will be visiting them tonight – which is always a joy and encouragement to Kevin and Rachel.
The Little Things
There are a few small bright spots and blessings – the hospital has moved Kevin to a private room!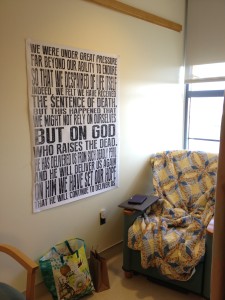 This makes a HUGE difference in quality of life when experiencing an extended hospital stay.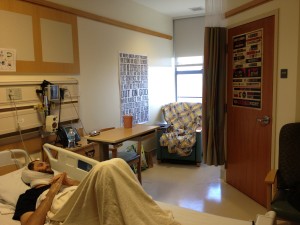 Also Kevin is enjoying his new Fight Club poster, courtesy of friends Justin and Michelle Vogel.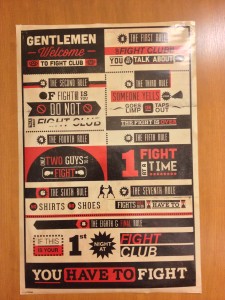 Finally, Rachel and Kevin snuck out of the hospital night before last to enjoy a small date night at the local California Pizza Kitchen, a most welcome and needed break from hospital life, and a sweet time together.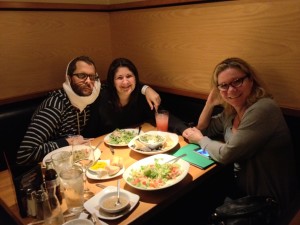 Kevin's cousin Claudia who lives nearby accompanied them.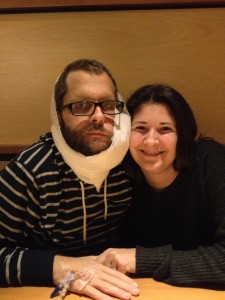 Prayer Request:
We ask that you continue to pray. Pray for more energy for Kevin to be able to take walks and relieve some of the back discomfort.  Pray that Kevin's liver levels and fever will go down and that they can get out of the hospital soon – they were not prepared for a long hospital stay when he was first admitted.  Please pray for their spirits to be lifted and for emotional and spiritual peace.  And finally, please pray that God would grant Kevin healing and more time with his sweet family this side of heaven.