This is a hard one to write.
The results of yesterday's ultrasound showed no blockage in Kevin's biliary ducts that could be corrected.
The consensus is that his elevated liver levels are caused by tumor burden alone.  The only way to help his liver right now is to reduce the tumor burden.  And the only thing we have left to try to do that is this chemo, which is toxic to his liver.
So you can see our dilemma.
The doctors are going to reduce the dose of the chemo to attempt to find the best compromise between liver toxicity and efficacy in killing off the cancer cells.  Thankfully, this chemo is actually pretty targeted, but it is still a risk.
But right now his levels are elevated to the point that we do not have an option to wait.  These levels are toxic.
One small blessing is that his levels are about the same today as they were yesterday, instead of continuing to spike.  But it's really too small of a data set to know if they have actually stabilized.
Kevin will receive the chemo sometime this evening.  We will let everyone know when he starts, and anyone who is able, please consider fasting and praying during the time of his infusion.  It will be over the course of about 5 hours.  The liver toxicity could be immediate or could happen over the next couple of days.  We need all of you to stand in the gap for us.
Kevin will most likely remain inpatient until they feel his levels are stable or that the drug did not work and then send us home.  Melanoma is not a very chemo-responsive cancer, so this was already a last ditch attempt.  Now with the added liver issues, we are really just crying and begging and pleading for God to work His miracles.
But we know that God can do it.  A dear friend shared the following verse with us from 1st Corinthians 1:8-10.  I made it into a giant poster that I am plastering on our hospital wall.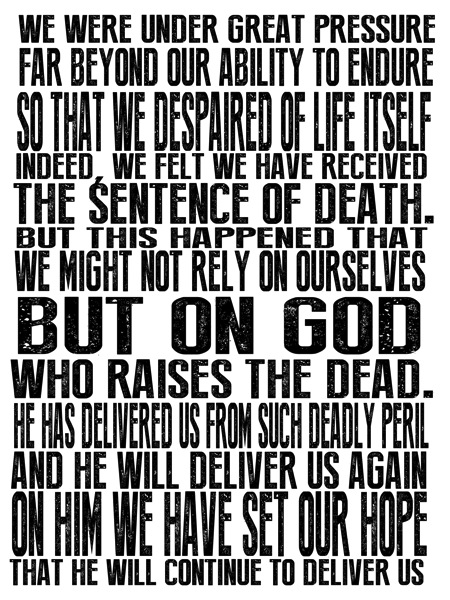 We truly believe we are under attack.  From trees falling through our house to car accidents to a million little annoyances that seem intended to wear us down, we feel like Satan is trying to hit us from all sides.  Thank God that we are not trying to fight this ourselves.  We feel completely tucked under the arms of our Heavenly Father who is barreling down toward the touchdown line, a ferocious running back who is defeating all His adversaries.  From our viewpoint as the football, it's a bumpy and scary ride.  But I truly do still believe that God is carrying us to victory over this.  If you don't understand this analogy, have a look at this video. Hat tip to Wed McMichael for the link.
Yes, I did just say that Jesus is my running back.  Somebody better go make a t-shirt.
We know that God is bigger than ANYthing that Satan can throw at us and we will continue to "cry out in distress, evening, morning, and noon," knowing that He will hear us.  Pray, pray, pray.