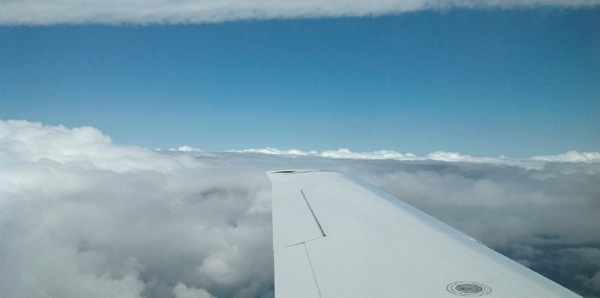 Okay, so here is the latest on our cancer news. Kevin and I flew to Los Angeles early last week for his fourth and final infusion before scans to check the efficacy of the treatment. In our appointment, the doctor measured the tumors on his neck and confirmed that they have grown some since he started this treatment. We won't know for sure until scans in one week (so get praying everybody!!!) but it's looking likely that the treatment has not worked and that we will have to move to plan D or E or whatever it is we are on at this point.  In fact, Dr. Ribas told us to start preparing for alternate treatment plans.  
Not really what were hoping to hear.
But… it is what it is, so we journey on.
Kevin will have scans conducted at Emory next Monday, November 26th at 4:15 PM.  If you think of it, text him throughout the day to remind him NOT to eat, because if we have to delay these scans by even one day, I swear I will lose my mind!
Anyway, If we get bad news from the scans, we will move to a treatment at the National Institutes of Health in Washington D.C. It's a grueling treatment called TIL therapy that involves harvesting one of his tumors, finding the strongest little cancer fighter cells that are in there (called Tumor Infiltrating Lymphocytes) , growing an army of these fighter cells in a lab, destroying his immune system with chemo and various other instruments of torture, then infusing his body with this army of super fighters, and topping it off with a week of InterLeukin-2 (his favorite treatment from last summer) to kick his new super immune system into overdrive and maybe, just maybe, kill those stupid cancer cells once and for all. Then they send us home for him to recover from all that torture. They are telling us to expect at least3 weeks inpatient and then 2-3 months of him being too sick to work.  That's in addition to several back and forth trips before and after the main treatment.
Who knows what it will actually be like, and who knows if that is even the path we will be on. There is still definitely a chance that this current treatment IS working and that he WILL be able to continue with it. And so we brace for the worst and pray for the best. I hope you will all join me in praying for AWESOME scan results in one week!
So anyway, after our discouraging appointment with Dr. Ribas on Tuesday, Kevin got his fourth infusion of Anti-PD1.  Then we had a nice birthday lunch with his cousin Claudia and spent the afternoon ogling techno-toys at the Microsoft Store and the Apple Store (Kevin is lusting after some HP Envy X2 thingy, so we can go back to our Apple vs. Microsoft wars.  We are tech nerds to our core).
Then we headed back to the Vornbrocks' house where Lila had been spending the day getting things ready for a little birthday party for Kevin.  We kept it small with just a few of his childhood friends and their families.  It was a perfect, laidback gathering, and I'm so glad that Lila made it happen.  Like I said earlier, things like celebrations keep tending to fall by the wayside when you are just surviving day in and day out.  And this celebration was especially special because Kevin also celebrated his "cancer-versary" just about a month earlier.  He has made it a year!  He made it to 36!  This is no small feat in the melanoma world, and I am so incredibly grateful to still have that man around.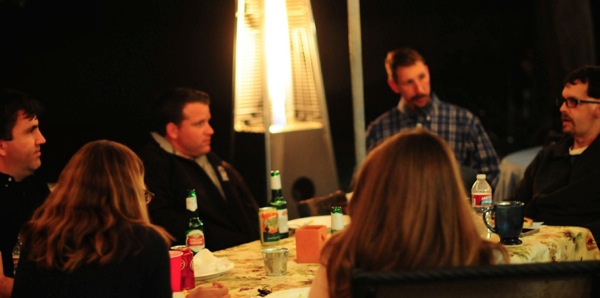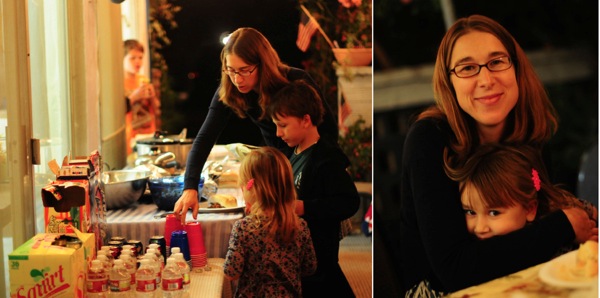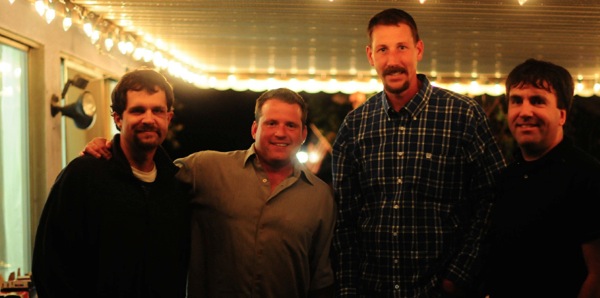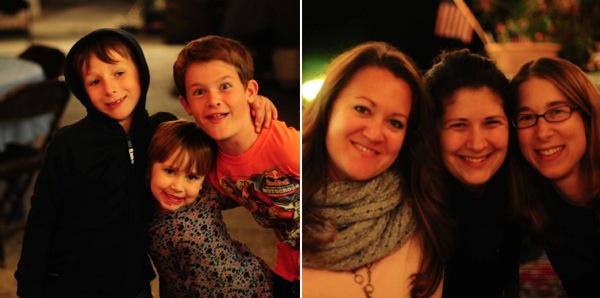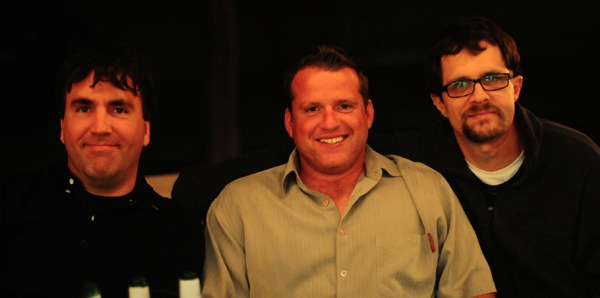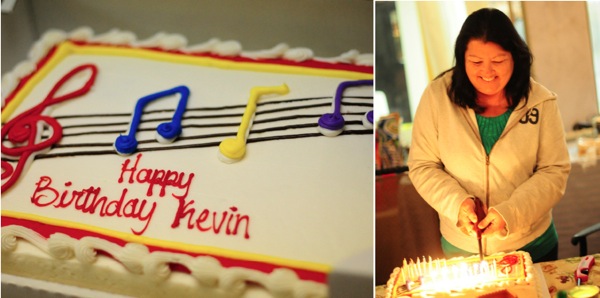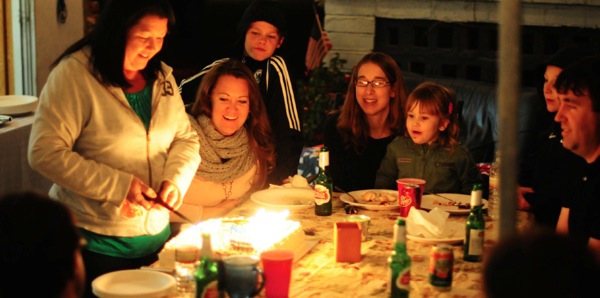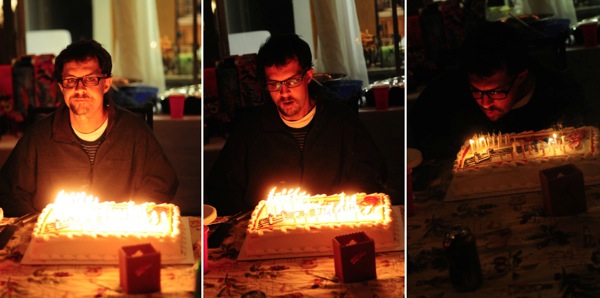 Yes, there really are 36 candles on that cake.  He's earned every last one of them!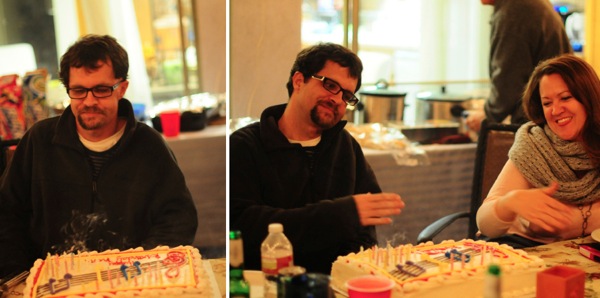 There was so much smoke afterwards, we almost had to call the fire department!
And P.S.  the photographer in me just can't let these pictures go into the interwebs without saying that it was really really dark but I refused to use my flash, so the color's more than a little off.  Also, I have not edited these pictures one bit.  They're far from perfect, but I'm working on letting go of perfection.  So this is my way of sharing with ya'll.  Trust me, it's a big deal for me  that I've started posting pictures un-sharpened and with color all wonky, etc.  I'm making progress, ya'll!