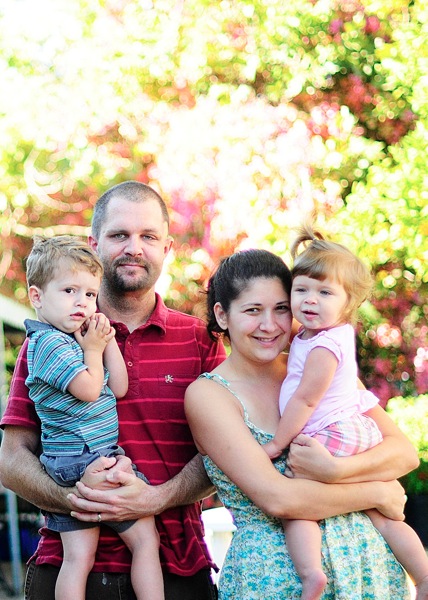 Last day in LA before heading home
Some of you may already know, but Kevin and I made the decision to leave the kids with some very close family friends in Los Angeles for at least part of his treatment.  "Grammy" Lila and "Grandpa" Paul are truly family to us, though not by blood.  They came into our lives just a little while after Kevin's mother passed away, and were a welcome additional set of grandparents.  We are so grateful for Kevin's dad and my parents, but I think anyone would agree that a kid can't have too many grandparents!  So.  We made the decision that Jude and Evie would do best (and we probably would too) if they had the stability of staying long term in once place while we figured out this next round of treatment.  They'd been bounced around quite a bit these past ten months or so, and hard though it was, we knew that staying in one spot for a while would probably be good for them.
All ready for Grammy Camp!
Once we flew out to Los Angeles (a last minute trip to visit with family and friends crammed in right before treatment started) we told Jude that he and Evie would be staying while Mommy and Daddy flew back.  It's a hard conversation to have with a (barely) three year old.  We didn't really know how much he understood, but we knew it was more than we figured.  We also knew that Jude had picked up on all the exhaustion, sickness, panic, and other energy that had been bouncing around the house for months.  He was nobody's dummy.  So we decided to sit him down and just tell him as honestly and simply as we could.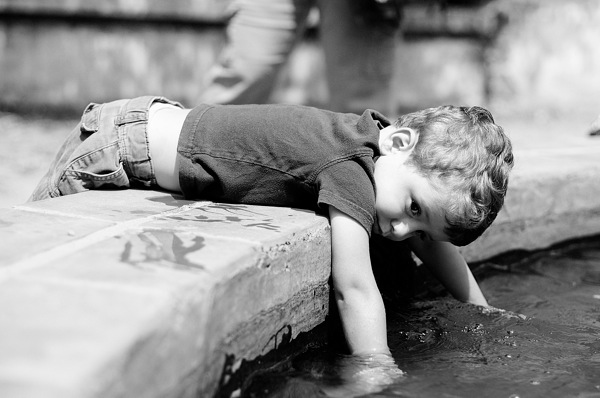 We said, "Jude, Daddy has cancer.  It's something that makes him sick, and so Mommy and Daddy need to go back home and put him into the hospital so that he can get better."  We showed him Daddy's scar, and let him touch it, to give him something tangible to connect with the idea of cancer.  We said, "Jude, since Mommy and Daddy have to go spend some time in the hospital, you and Evie are going to stay with Grammy and Grandpa until Daddy gets better.  You'll have lot's of fun, and we will talk to you on the computer every day.  We love you very much and we are going to miss you so much, but we know that you will have a great time doing lot's of fun things with Grammy and Grandpa."  We told him the day after we got there, and then casually mentioned it each day as it got closer to the day of our departure.  There were definitely some tears, especially on the day we left, but it's amazing what the promise of treats and care packages can accomplish (don't judge us, he's three!)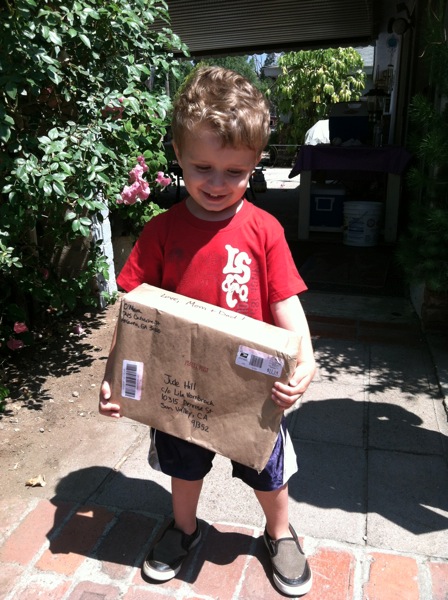 Package from Mommy and Daddy FINALLY arrived!
The first few days after we left, though, he would literally burst into tears whenever we got onto the computer to video-chat.  It didn't help that he wasn't feeling well and had been struggling with a sore tooth and a fever.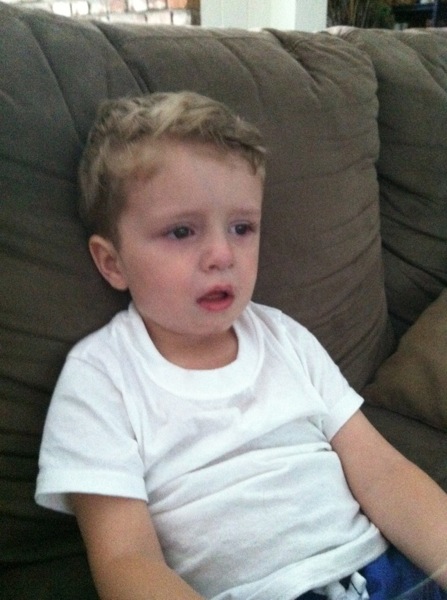 Mommy, I miss you AND I don't feel good!
The third time we chatted, Evie, who'd been fine the whole time, broke down and started crying inconsolably.  There is nothing worse than not being able to reach through the computer screen to comfort your baby.  But, I did what I always do with little ones, I tried distraction, and soon got her laughing as I held up a cup with a straw to the videocamera and encouraged her to drink from it.  I still had to squeeze back my own tears though.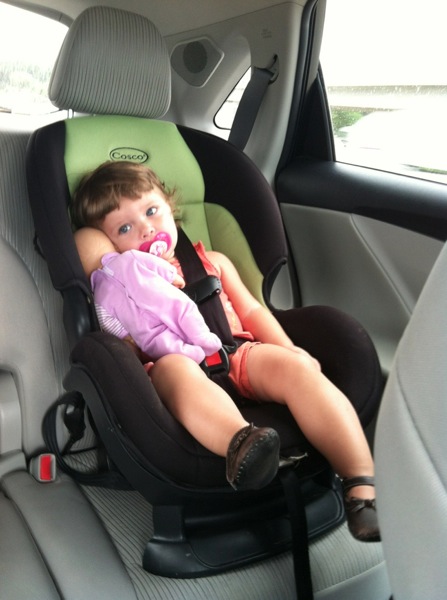 I wish I could squeeze those cheeks right now!
But it's been over a week now, and the kids are doing great.  I mean, really great.  And that just means the world to me.  Lila and Paul are getting lot's of fun time with the kids, and they are also getting the opportunity to connect with some of our other west coast friends and family, something we would never have had the chance to do in a short visit.  Tomorrow they will be going to the Children's Museum with Kevin's cousin and her daughter, and last week they went to storytime at the library with some of our friends and their kids.
Listening with friends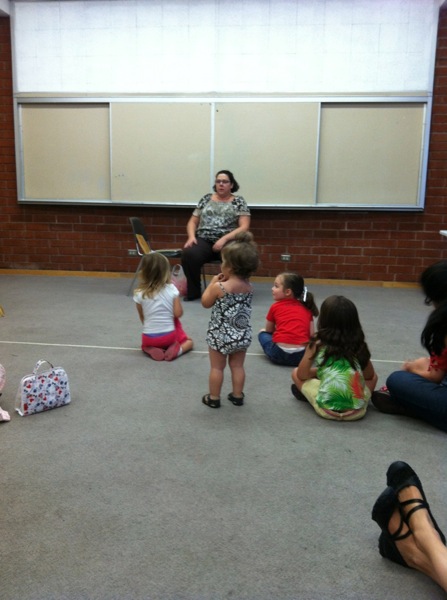 About to do the hokey pokey at storytime
It means more than anything to me to know that my kids are not just fine, but they are thriving.  They are playing everyday and doing things that they probably wouldn't be doing here, because I've been so exhausted just trying to survive.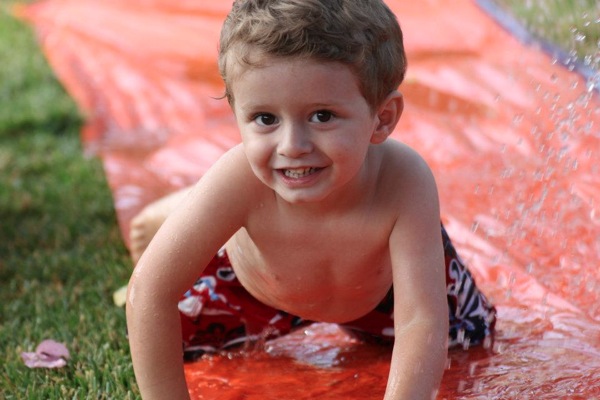 Waterslide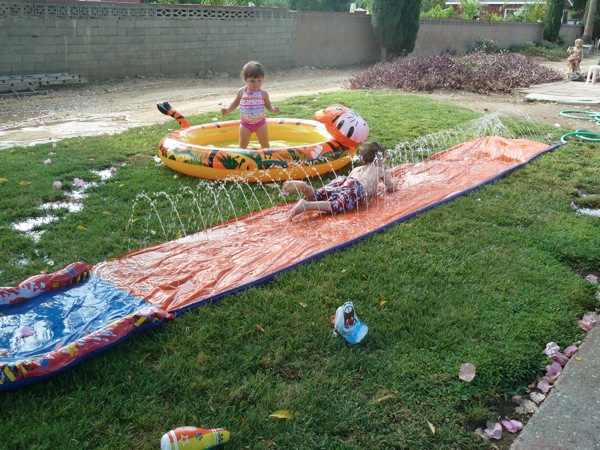 The Vornbrock Splashpad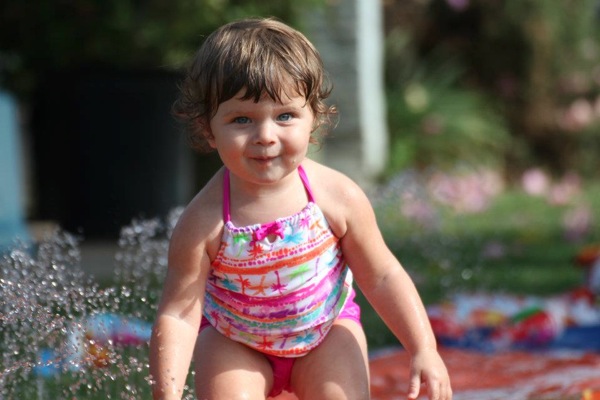 Fun in the sun
I am so truly grateful for God giving me the resources and the courage to make the best choice for my kids, even though it was nowhere near the easiest.  Thank you Lila, Paul, our extended LA family, and all of our friends and family here in Atlanta!