I am so behind on writing, but we've been so busy or tired that I just had to let it wait.  I'm going to try to catch up, but bear with me, because a lot of these posts will be out of chronological order.  I'll try to tell when something happened so you can follow, but I want to share with you all about Jude's birthday, our LA trip, our first few days in the hospital, and several amazing stories of ways that God has reached right down into our world and scooped us up and held us tight.  My ADHD brain wants to try to tell everything either all at once or in perfect order, and I'm realizing that's just not gonna happen.  So keep in mind folks, this isn't a soap opera where you tune into the next episode each day, but rather think of our blog as a compilation of remembrances and meditations on our experiences and the ways that God is revealing Himself to us.
First for the most current update:
Kevin is doing AWESOME.  He feels like crap, but of course that was something we expected.  The most prominent side effect though has been fatigue, and luckily he's in a bed all day, so he's able to do lot's of sleeping.  Heck, I've been pretty exhausted too, and without kids to take care of or a house to tend to, I've been getting a lot of catch up sleep done too!  The nurses and Dr. Lawson (our medical oncologist) keep saying how well he's doing for the number of doses he's had.  So far, he's had six doses.  They will do a maximum of 14 doses, but most people don't do that many.  They warned us that Thursday will probably be the worst day, but I am praying that he will continue feeling okay, just really tired.  He does tend to get chills and rigors (extreme chills accompanied by shaking) shortly after many of the doses, but they have a drug that immediately makes them go away.  He had nausea and rigors after the very first treatment, but hasn't had much nausea since then.  My biggest prayer for this week has been for the treatment to be effective in teaching his body's immune system to kill the cancer cells and that it would miraculously at the same time not be too difficult for him to tolerate.
Up until this point, we had really felt like the doctors had downplayed the severity of most treatments.  They suggested the radiation wouldn't be too bad, would make him a little tired, a little sun-burned feeling, etc.  It was horrible and he was in pain and exhausted.  Positively exhausted.  The same thing was said for the interferon… hard, but not too bad, everybody's different, etc.  He had the worst side effects possible.  So when they told us that IL-2 is really hard on everybody, we were braced for the worst.  But yesterday he said to me, "You know, the interferon was worse than this."  And I just cried tears of joy, because that had been my prayer.  He has been through so much, and it just sucks for him to have to go through so much more, without even knowing if it will work.
So that's Kevin's basic update.  We will have a few more days of treatment, possibly checking out on Friday or Saturday, then two weeks of rest and recovery and home, then back in for another one week regimen.  After two more weeks of rest, he will have scans to see if there has been a response to the treatment.  If it has, he will undergo two more rounds of one week in, two weeks at home to complete the treatment.  If the cancer has not shown a response, then we will stop treatment and move to plan c, d, e, or whatever else.  We found out last night that he is positive for a genetic mutation called B-Raf, which about half of all melanoma patients have, and in short, there are many many options for treatment for folks with that mutation.  I'll go into more detail in a separate post.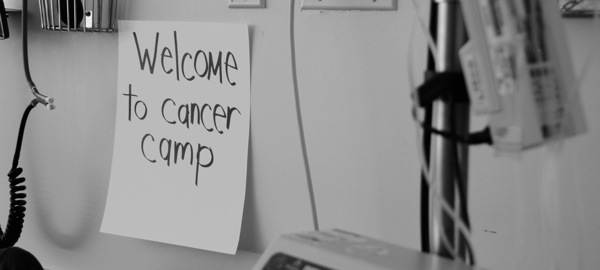 Prelude
Sunday morning, we packed our bags and said a teary goodbye to our kids.  We had been in Los Angeles for a whirlwind, last minute trip to visit with friends and family, and Jude and Evie were going to stay with their West Coast grandparents (Paul and Lila) for a little while.  We stepped on a plane and, for the first time ever, I was not eager to get to where I was going.  By the time we got off the plane and back to our house in Atlanta, it was 8:45 in the evening.  We were exhausted from pushing through to see as many folks as possible during our incredibly short trip.  Lot's of socializing and not a lot of sleep and lot's of emotional chatter left us definitely NOT in a state of preparation to do battle the next morning.  At 9PM, friends and family arrived to sit with us for a time of prayer and scripture reading.  We felt energized but still more than a little bit terrified.  I, the social butterfly who could talk forever, sent everybody home and with the help of my sister and a couple of other friends, quickly unpacked from our trip and then packed for our one week stay at "Hotel Emory" or as I am now affectionately calling it, Cancer Camp.  We set our alarms for 5AM, and then tried our best to sleep.  I don't think either of us really did.
We pulled up to the hospital at 5:45 and looked at each other grimly.  "Well, here we go, I guess."  We parked the car, leaving all of our luggage and accoutrements, and wandered the hospital corridors until we found Radiology.  We had been told to report at 6AM.  We had also been told there would be a LOT of waiting around on the first day.  Once they brought Kevin back to put in his PICC line, I knew it would be a little while before I saw him again, so I went back to the car to grab my laptop charger and rearrange a few things in my bag.  And somehow, I managed to lock both of our keys in the car.
Well, crap.
I stood there looking at the wrong car key in my hand, wondering why I had shut the trunk lid with the other keys inside before opening the car door.  I stood there thinking, seriously?  Seriously, is this my life?  And then I thought, seriously, is THIS what is going to get me to cry today?  No way, Satan, you do NOT get that kind of satisfaction.  With nothing else to be done about it now, I headed back to find Kevin.  On my way, I passed the receptionist at the information desk.  I had seen her smiling face every time we had come here since our first visit last October.  I distinctly remember seeing her then.  I also remember that first day, how we had walked into the Cancer Center and seen person after person with the telltale signs of cancer, beautiful bald heads swathed in silk scarves, oxygen tanks, person after person reading books on kindles and ipads, because they were doing a LOT of sitting around.  I remember squeezing back tears, because it was really starting to sink in that Kevin had cancer, like, for real cancer.  Like, cancer that could kill a person cancer.  I remember thinking that we didn't really belong there, this was "just" skin cancer.  And I remember how I felt as we walked out of our appointment and past that same receptionist, now knowing that yes, he did belong here, and yes, this was the big leagues.
Anyway, as I walked past her Monday morning, thinking back on how long this journey had already been, I realized that I didn't even know her name.  Something in me thought to myself, "Self, you should go find out her name."  And so I did.  I walked back down two flights of stairs and over to her desk and said, "I have seen you at least once a week for the last 10 months, and I don't even know your name.  My name's Rachel."  And she told me that her name was Ann.  And then, for any of you who know me, it will be no surprise to you that I started chatting with Ann.  I shared a little about the thoughts I'd had about her, how everything else had changed in our world, but that her quiet presence was always there.  She is a slightly older woman, maybe 70s, with a quiet grace about her.  She's not the extroverted, cheerful greeter who calls out to you, but rather the one with the quiet smile that let's you know she is here if you need her.
And as we chatted, I mentioned what had just happened to my car.  And wouldn't you know it, she immediately said that the Emory Campus Police could come right over and get me into my car!
Now, Honestly I am one of the last people who would say that God is in every tiny detail, and that he "gave" me this certain parking spot, etc.  But I truly believe that God laid it on my heart right then as I passed by Ann, to go and ask her name.  God knew me so well that the rest of my story would come out… it always does.  And that through sweet Ann, even my smallest needs would be met.
But there's more!
So I went over to my car to wait for the campus police.  Once the cop arrived and verified I was the car's owner, he gathered his car "break-in" kit.  But there was a piece missing, so he had to radio for another officer to drive over.  While we waited, of course we started chatting, and I shared a little of our story.  After getting me into the car, he cautiously said, "I hope this won't sound weird, but I lead a men's Bible study, and I would love to have our group pray for you and your husband.  Do you mind my sharing with them?"  Choking back tears, I thanked him and asked if he could pray for us right now, because I was sure feeling like I could use it.  So we stood in the parking lot, a uniformed police officer and I, amidst the morning rush of cars, bowed our heads, and prayed.
Lord, I now know, I truly believe, that even in the littlest moments, the tiniest of details, You are active and involved.  And I also know that Satan has no power over us; what he would use for evil, You constantly turn back into the most beautiful reminders of your unceasing care for us, even the tiniest of our needs.