This is the first post in the series 11 days of gratitude for 2011.  We thought we'd start with the best.  The first thing I am grateful for in 2011 is Evelyn Lila Hill, born January 1, 2011.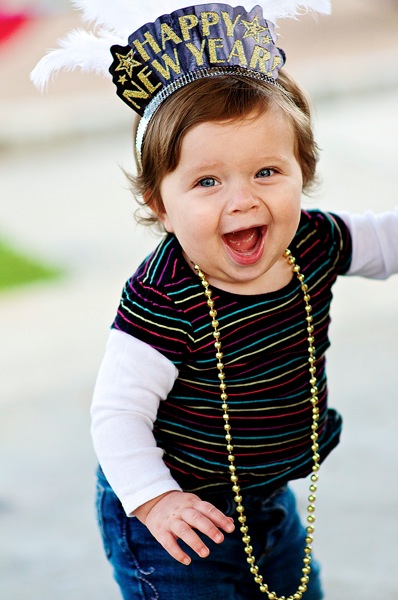 Dear Evie,
Wow, it has been one heckuva year, and you started it off for us with a bang.  You came into the world just after 8AM on January 1st, giving you a super cool birthday of 1-1-11.  You were two weeks early, and had a little trouble breathing in the beginning, so in true, "pay attention to me" style, we endured a 5 day NICU stay for you.
You were stabilized after just a few hours, but anyone who's ever had a child in the NICU, even for a small reason, knows that it was like a prison break getting you out.  And it was hell sitting there watching you in the NICU ward, not being able to hold or nurse you.  The worst part was when it was time for me to leave the hospital, but they weren't ready for you to come home.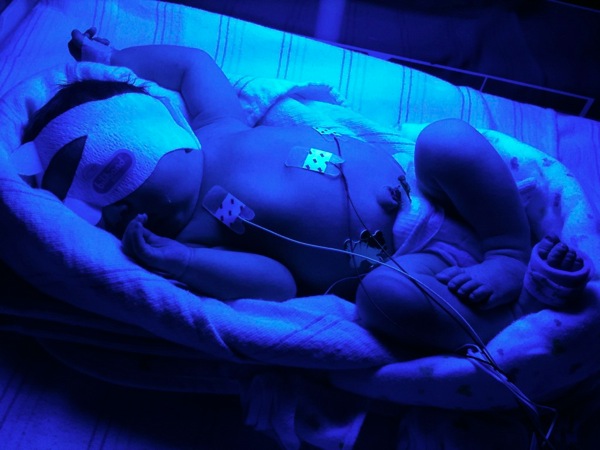 It broke our heart to leave you there, but I will admit that as second time parents, we really just slept as much as we could between visiting you at the hospital, knowing what we were in for when we got you home.  And you didn't disappoint.  You pretty much cried your way through the first six months of life… you and me both, my dear.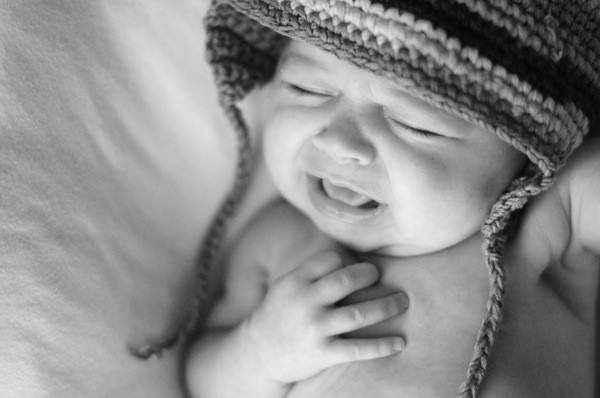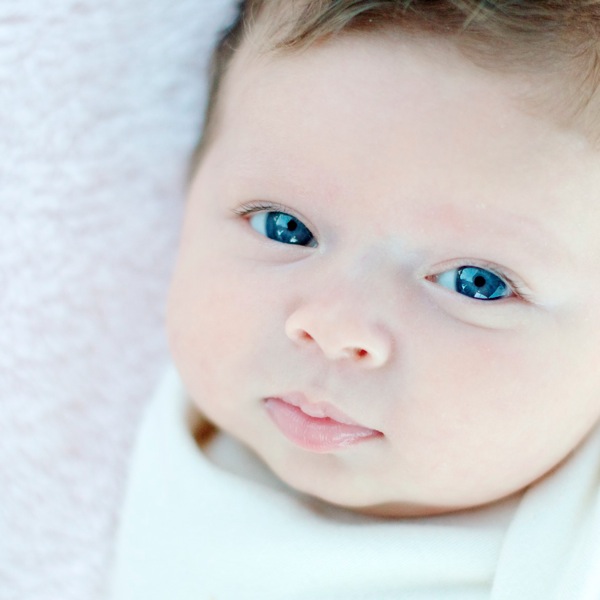 We both worked our way through thrush (three times), reflux, and colic.  Sometimes I had to just put you down and walk away.  And my heart broke.  Your father would just hold you as you screamed and screamed.  And we wanted to fix it, but we didn't know how.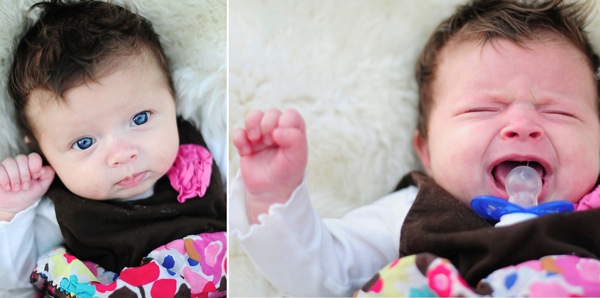 The first day you actually smiled for us, I remember I cried.  It had been so. long. of screaming.  and screaming.  And to see you happy, smiling, even for just a moment, was such a milestone for us.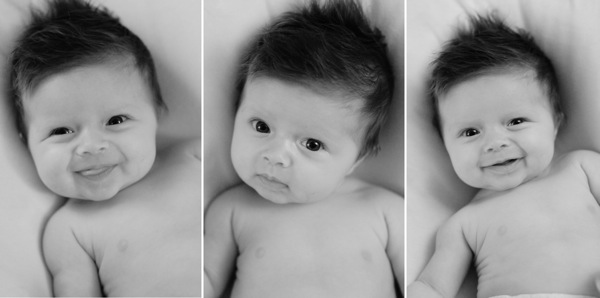 Still, most of your life was spent crying.
But at about six months, a switch just flipped, and your nickname permanently changed from "Her Screaming Screams-A-Lot Who Screams All The Time and Won't Shut Up With the Screaming" to "Smilin' E, My Happy, Happy Girl".  Seriously, I've never seen a little girl who just seems so happy to be alive.  We will just forget about those first six months and never speak of them again.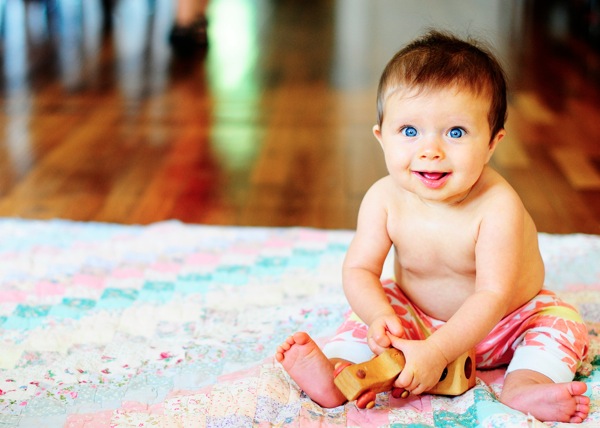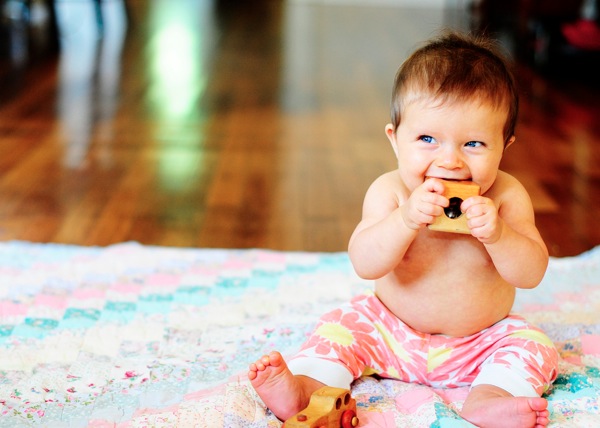 You are a photographer's dream… a beautiful little girl who literally lights up and flashes me the biggest grins the moment you see that camera come out.  There's no cajoling a smile out of you… it's just right there.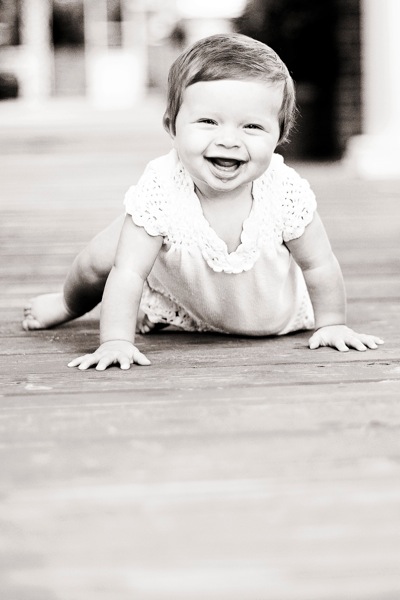 But you're not just a camera hog.  Your heart is on your sleeve and you let everyone know it.  When I put you over my shoulder as I walk down the aisle at church to take communion, there are giggles throughout the congregation, and I realize it's because you are flashing everyone the biggest smile a person's ever seen.
You are happy and you know it.
You are curious and eager to explore.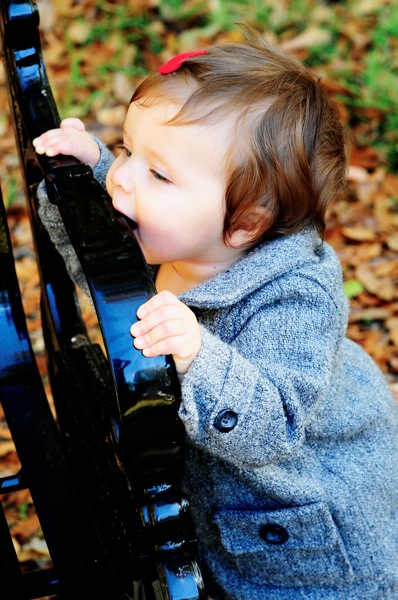 And you have the BEST wardrobe!  You are SO fun to dress, and I keep reminding myself, you're not a doll!  Someday we will fight over what you will and will not be allowed out of the house wearing, but for now, I get to pick!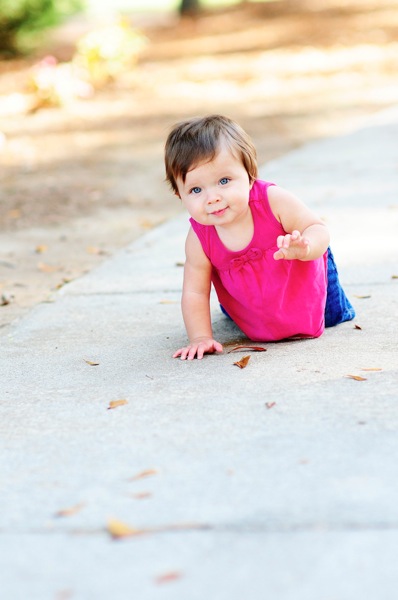 You LOVE to eat!  I cannot tell you how grateful I am that I don't have a picky eater on my hands (yet… fingers crossed).  It's just the cutest thing to see you cram everything from tacos to cornbread in your cute chubby little cheeks.  If we don't feed you fast enough, you flash us the "face of fury" and watch out because hell hath no fury like a hungry Evie!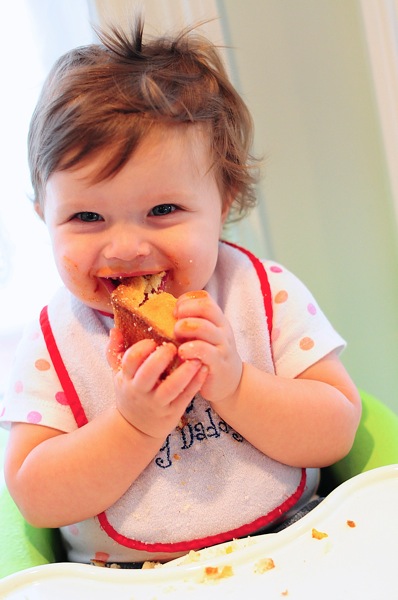 Those eyes.  Oh dear, your father is already cleaning his shotgun over those gorgeous eyes.  But they are so amazing.  You have your father's eyes and I absolutely love them.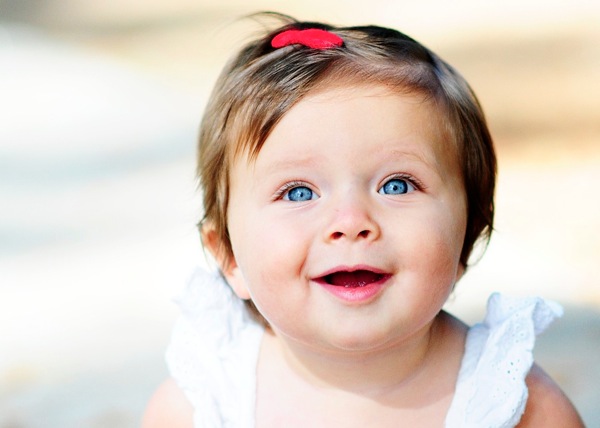 But there is so much more to you than your gorgeous face and beautiful smile.  That look that says, "I am SO happy to see you today!  It has ABSOLUTELY made my day to see you".  You give that look to the cashier at Trader Joe's.  And I just love that about you too.
I am so glad that you have the best big brother.  He loves you so much!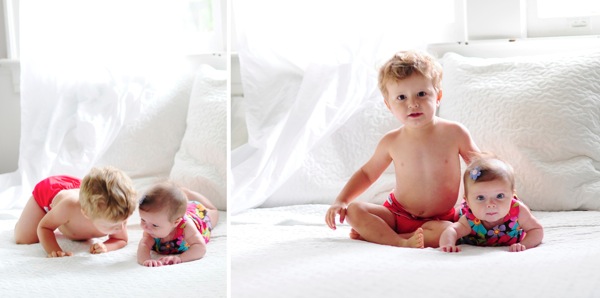 He always wants to know where you are and make sure you have what you need.
He asks, "One sister?" and then gives you one of whatever he's snacking on.  We've had to pry many a chocking hazard out of your mouth that your generous brother has fed to you.
He loves to play with you too, and I'm sure one day very very soon you two will be fighting over toys, but for now he loves picking out your favorite things and bringing them to show you how they work.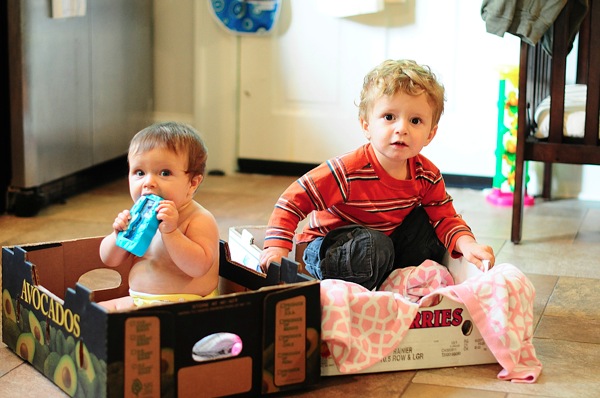 He is already so protective of you, telling everyone to "shhhh… sister sleeping" during your naptime.  And then he turns around and walks into your room to "check" on you, waking you up an hour early!  But it's just because he cares, I promise!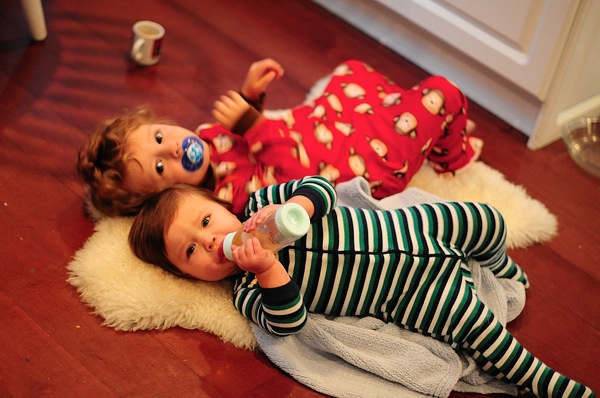 My heart aches when I see you two together, thinking about the future you have for one another.  You are just 18 months apart, and I know full well that you two will fight hard, but you will love each other just as hard too, and I see it already.  I can't wait to watch your friendship unfold.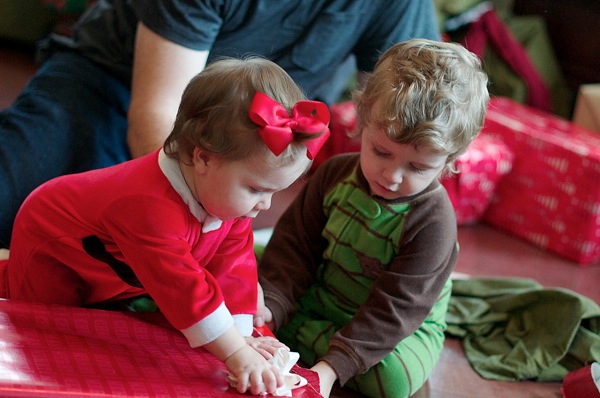 You love your Papa and Nana, and the moment they show up, you make a beeline to them.  I love seeing that special bond between you and them.
And though you truly will smile for just about anybody, I know you have a special place in your heart for your Grammy Lila too.  Though we are miles away from her, you still get excited to see her on the video chat screen, and love to cuddle when she comes out to visit.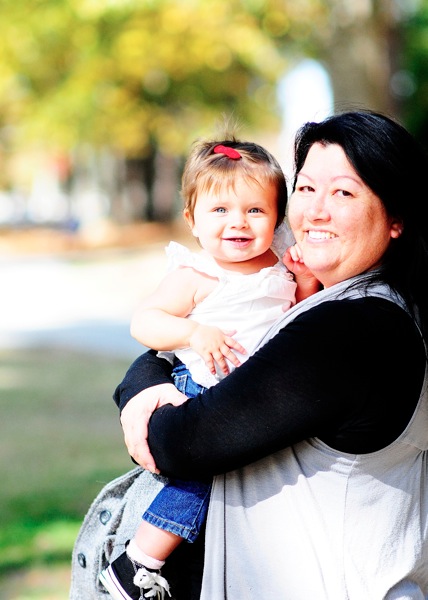 This has been one of the most difficult and challenging and scary years of our lives.  It has taken our family down a path we never thought we'd be on.  At times, I could say I was eager to leave 2011 behind.  But you, my darling, dearest, my most amazing daughter.  You are our most precious gift of 2011.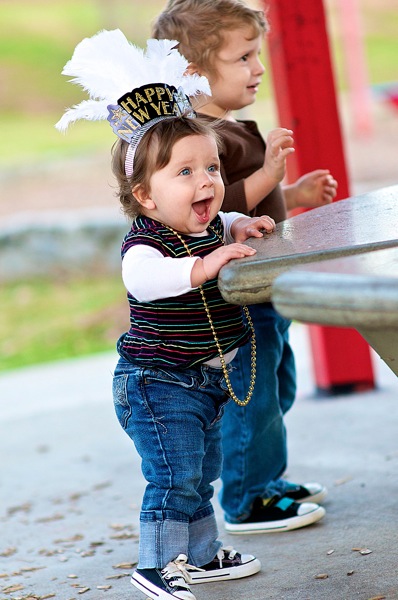 Thank you for being the most joyful, amazing, difficult, perfect part of our 2011.  You definitely started the year out right.