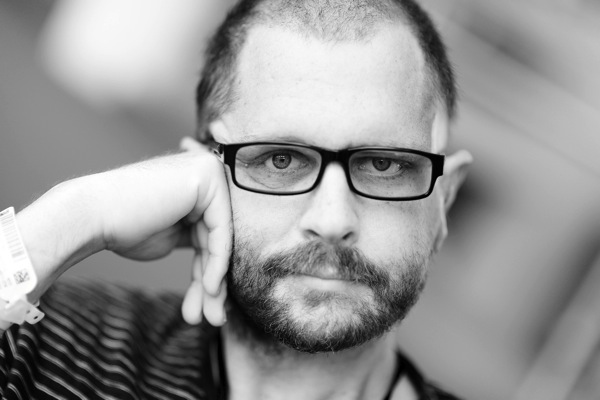 I stood in the aisles of Trader Joe's, scanning the calorie counts of various foods, desperately trying to find foods that had the most calories per bite.  I was sure that my husband just needed more calories to gain his strength back.
I didn't know that the toxins that his liver were no longer removing from his body had already built up to the point that they had taken away his appetite.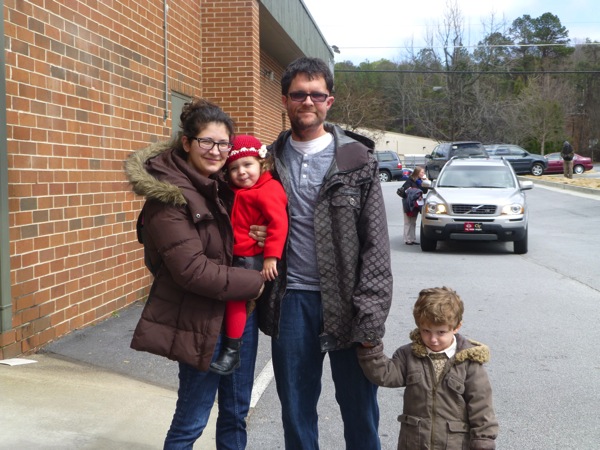 One of the store associates teased me about calorie counting, saying that I certainly didn't look like I needed to be watching my calories.  He didn't know that the reason I'd lost so much weight was because I'd spent the last two years helping my husband fight an exhausting battle with cancer.  And that we seemed to be losing.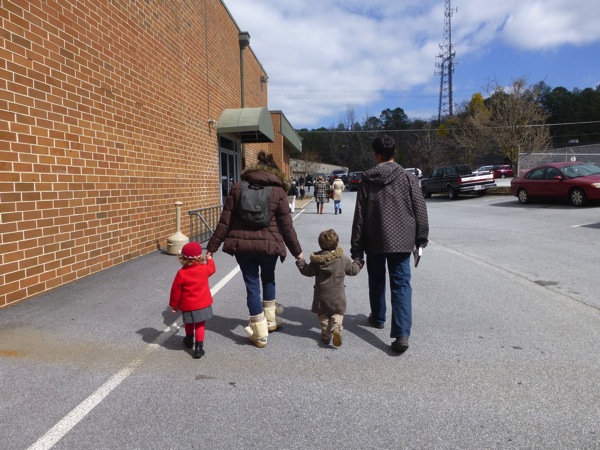 Countless cross country flights we tookwhere people were gruff with others and others extended us mercy and grace.  No one knew the weariness and exhaustion we carried in our heart.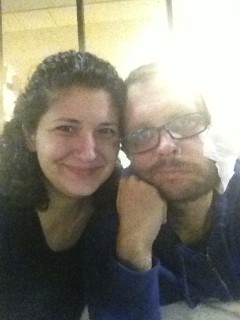 Friends comment on how independent our children are, and many don't know that it's because they have had to learn to be, having been bounced around between friends and neighbors and folks they barely knew, while I took Kevin on countless doctor's appointments and ER trips.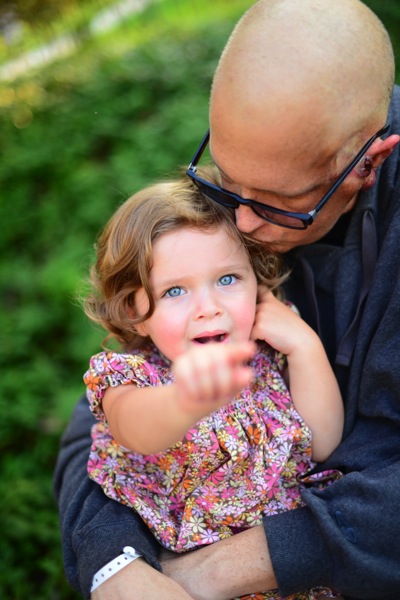 When Jude and I snuck Daddy out of the hospital for lunch, we didn't know it would be our last trip to the beach with him.   But I'm glad it was a great one.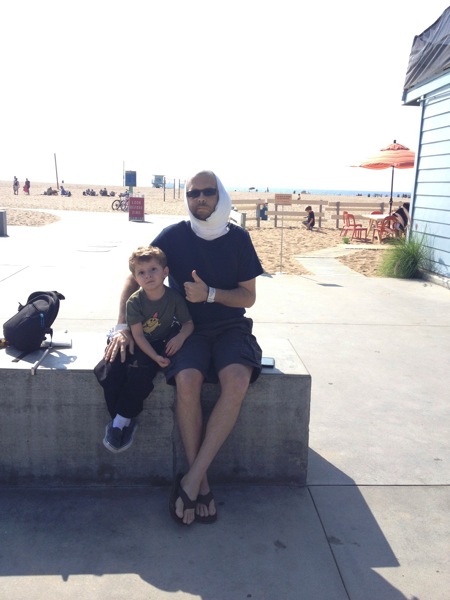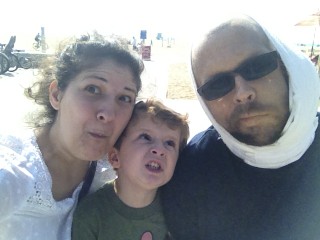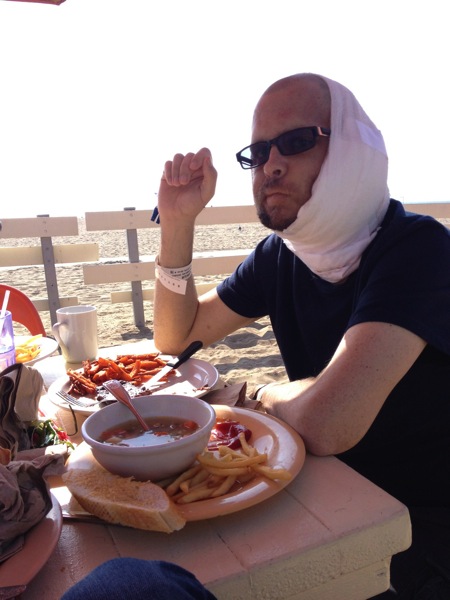 When I wrote a post like this one, I didn't know that my words would give a friend struggling with the pain of lupus and rheumatoid arthritis the inner strength to keep soldiering on.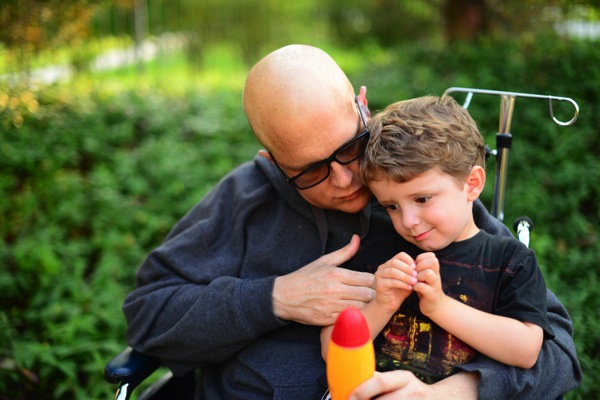 When Jude squirreled away some of our hope postcards in his backpack and then dropped on of them on the floor at church, he didn't know that the words on that card "Thank you for giving us hope" would speak words of comfort to a stranger who had stepped out of the church service and sought refuge in the ladies' restroom.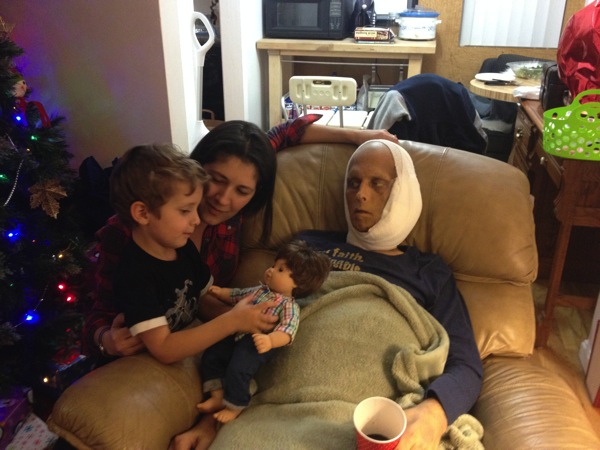 The day I wrote the first post, "The C word", I never knew the lengths to which Kevin and I would go to fight, the miles that we would travel, and the number of lives that our story would touch.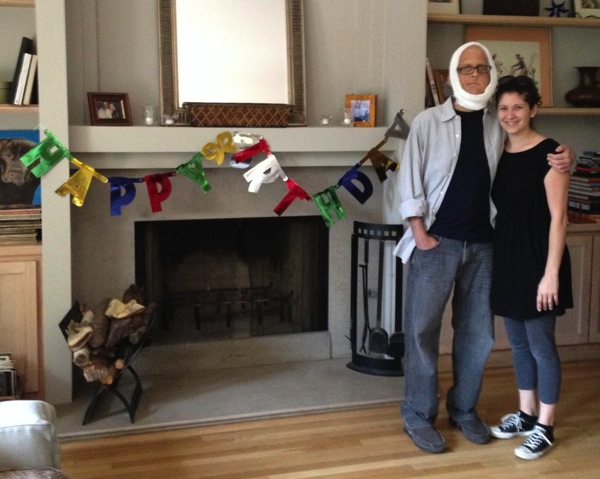 And last night, when I was driving down to the airport to pick up two of my best friends who have come to stand beside me as I watch my husband die, I pondered these things.  I pondered the number of people who have dug deep down into their own souls and wrestled with God in ways I can only imagine.  People who have begun to dialogue with God and ask Him the tough questions, like why the hell is this happening.  And knowing that God can more than handle it and that He is overjoyed to be hearing from His precious children.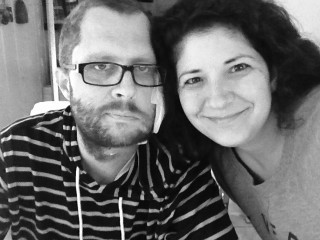 I thought about the doctors and nurses and caregivers who wept as they watched our children, dressed in their tiny scrubs, crawl up onto a hospital bed to snuggle with their father, and went home thinking about how our children were neither sorrowful nor afraid, and how could that be.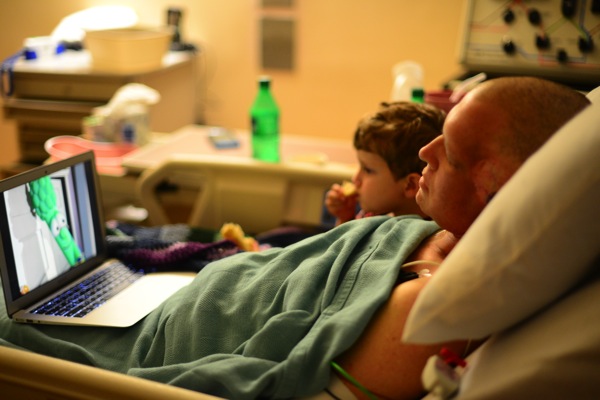 I thought about all the ways that God has stretched and grown Kevin and me, and the ways that He has instilled an amazing compassion and empathy in our children.  I thought about all the ways that God has stirred the hearts of so many to provide for our little family in truly supernatural ways, and the people who have watched it all and shaken their heads, trying to make sense of it all.  I thought of the people who have begun again to speak to the One who created them and loves them beyond all imagination, if even only to yell at him and hurl rocks and cry out to Him "Why?!"  And how God can take it ALL and is wrapping His arms around them whether they believe in Him or not.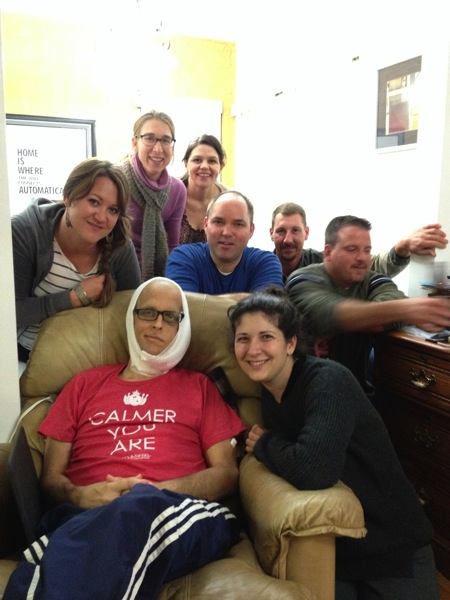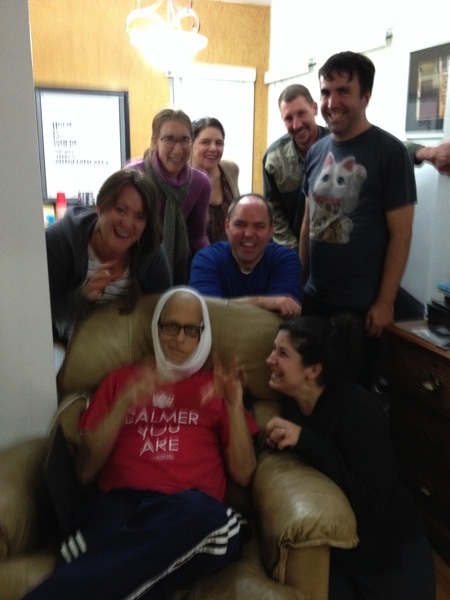 I thought of how surprised Kevin will be at how packed the church will be when we gather to celebrate his memory, both here and in Atlanta, and for the thousands upon thousands of people who have been touched by his life and his story.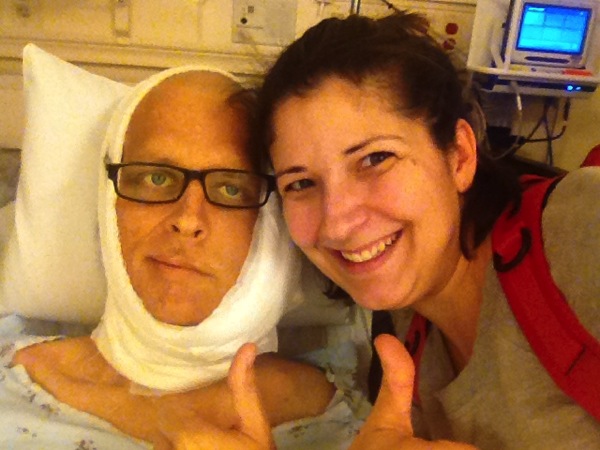 I thought about our sorrow that our children will grow up without a father, but already see how their pain connects them with the greater suffering of the world and how their joy and perspective will be a source of light in my life.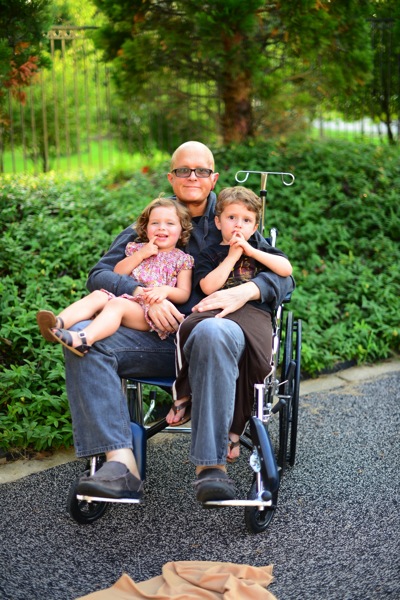 I thought on all of these things, and for a moment, just maybe even a second, I saw it from God's perspective and I thought,
"It's a fair trade."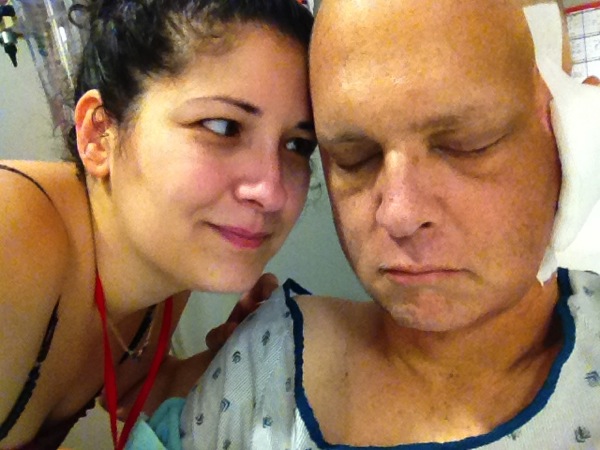 Kevin loves to play poker, and was always talking about how it's not a game of chance (he hates games of chance).  He would always tell me, "Why would the same people be at the world poker championships every year."  He said it's about playing the hand you're dealt as well as you possibly can.  So I tried to find a good poker metaphor to wrap this up.
"Life is not always a matter of holding good cards, but sometimes playing a poor hand well."  -Jack London
I will never say that Kevin's death is God's will.  This was NEVER the way it was supposed to be.  And why it's happening and how God can be all good and all powerful and still not stop this is a mystery that many of us will grapple with for years to come, myself included.
But.
I do believe… that NONE of this is a surprise to God.  It was not just luck or chance.  God may have not dealt Kevin and me this hand, but he knew exactly which cards we would receive.
We did our best, we played a shitty hand as well as we could.
As I watch my husband decline, and see already how pieces of him have left this earthly place, I am finally ready to think back on Job.  Many have compared our trials to those of Job's, especially when so many crazy things have happened, like trees falling on our house and stuff.  Both Kevin and I took that reference very seriously though, and would never be willing to make that comparison.  Go back and read the story of Job and ALL the suffering that he endured, and you'll understand why we would constantly say that this doesn't even compare.  And yet, the words of Job come to mind as I see my husband no longer able to care for his bodily functions, no longer able to communicate verbally, sleeping off and on for short amounts of time, but greater amounts overall, much like a newborn.
I think of Job as he tore his clothing and shaved his head and dropped to his knees.
"Naked I came from my mother's wound, and naked I shall return.  Blessed be the name of the Lord."
Is the Lord's name blessed?  Do I feel that?  Do I truly believe it?  I don't know right now.  I know that I will miss my husband so terribly and that, while I feel peace and surrender today, there will be many many moments where I feel I cannot even breathe.  And even more when those very words will cause me to hurl obscenities at God for allowing me to endure such pain.
At Kevin's uncle's funeral, his cousin played the song, "The Gambler"  I know it may not make sense to many, but Kevin would probably agree with me that it's a fitting end to this rambling post.
On a warm summer's evenin' on a train bound for nowhere,
I met up with the gambler; we were both too tired to sleep.
So we took turns a starin' out the window at the darkness
'Til boredom overtook us, and he began to speak.

He said, "Son, I've made my life out of readin' people's faces,
And knowin' what their cards were by the way they held their eyes.
So if you don't mind my sayin', I can see you're out of aces.
For a taste of your whiskey I'll give you some advice."

So I handed him my bottle and he drank down my last swallow.
Then he bummed a cigarette and asked me for a light.
And the night got deathly quiet, and his face lost all expression.
Said, "If you're gonna play the game, boy, ya gotta learn to play it right.

You got to know when to hold 'em, know when to fold 'em,
Know when to walk away and know when to run.
You never count your money when you're sittin' at the table.
There'll be time enough for countin' when the dealin's done.

Now Ev'ry gambler knows that the secret to survivin'
Is knowin' what to throw away and knowing what to keep.
'Cause ev'ry hand's a winner and ev'ry hand's a loser,
And the best that you can hope for is to die in your sleep."

So when he'd finished speakin', he turned back towards the window,
Crushed out his cigarette and faded off to sleep.
And somewhere in the darkness the gambler, he broke even.
But in his final words I found an ace that I could keep.

You got to know when to hold 'em, know when to fold 'em,
Know when to walk away and know when to run.
You never count your money when you're sittin' at the table.
There'll be time enough for countin' when the dealin's done.
Fuck it dude, let's go bowling.